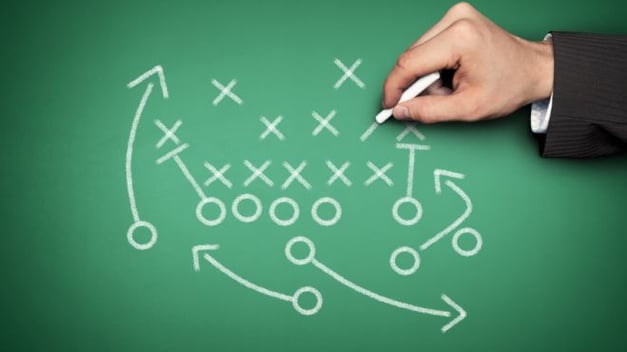 So what's the game plan?
Well, it's that time of the year again...year end coming on quickly, holidays, strategic planning, budgeting, yatta yatta yatta. What's an Accounts Payable process leader to do? Well, we've got some thoughts on that given the ever shifting landscape that you have to face. Today's post is going to deal with what we perceive are the big rocks to be focusing on from a planning forecast if you find yourselves behind the times from a technology landscape perspective.
So maybe 2015 wasn't a banner year for you or you're new to learning about the multiple ways you can improve your back office AP operations. We're going to catch you up on the biggest bang and highest impact items you can do for your organization (and yourself).
Our thoughts on what strategic AP process leaders are doing in 2016!
Getting Smarter About Payments
Payments are an emerging field with numerous disruptive technologies coming to the front of the market, especially on the personal finance side. However, in the corporate landscape the options for payment methods remain fairly predictable with ACH, check, EDI, and credit cards being the prevalent means by which suppliers pay vendors. However, as we've discussed in earlier posts, there are significant advantages to exploring newer payment methodologies including virtual payments. Through advanced virtual credit card payment systems, companies are tapping into enhanced security features due to single use virtual credit card instead of running all purchases through an individual specific card, and also tapping into massive cash rebates as new found annuity revenue model that didn't exist previously. Consider that check-cutting is an arduous costly proposition that imposes drag on a lean accounts payable process, and you have a double bonus by divesting yourself of old payment methods that have worn out their welcome. If you haven't boned up on virtual payments, then check this out and get them working for you in 2016.
Ditching paper dependency
Yes, everyone hates dealing with paper in the US Accounts Payable arena. It bogs things down, costs a ton to process an individual invoice, and totally hinders visibility within the process. Sure, some folks have had the foresight to pursue AP automation, and that's a good thing. But more than 50% of the market has yet to do anything about improving AP including basic digital archiving. While we're not advocates of doing just that item alone because it doesn't enrich invoice processing per se, that is not a good metric. The typical pushback on why organizations haven't done much to transform this area is two-fold: a. it costs too much and b. they don't have the technical or personnel resources required to support it. For this reason, we advocate looking into alternative delivery methodologies as opposed to deployed, local software solutions, and ones that offer transactional billing structures so your ROI on said technologies is immediate and sustained, not something you're working towards on an 18-36 month timeline that keeps getting readjusted.
Harnessing the potential of data
Sure, you hear big data all over the place from major newspaper, to tv news, to trade publications, and for good reason. Within our glut of data lies a ton of insights into how we conduct business to supplier relations to seasonal trends of our business. From our perspective, areas like the Accounts Payable process become disjointed when data has to be interpolated between systems that are not synchronous. This insertion effort typically falls back to data entry and begets a slew of accuracy, timeliness, and data validation issues. However, when you start getting systems to talk to each other or leveraging technologies like OCR, you get out of the physical processing mire and elevate your ability to let technology become your leverage over the process. This in turn makes scaling a process achievable and elevates your staff from lower level to higher order tasks.
So that's a brief list of key things to tackle, but back office Accounts Payable process transformation is a reality for those who are willing to seek it out and make it happen.

Here's to success in the coming year and check out the eBook below to get a jump start on planning your successful transformation initiative!