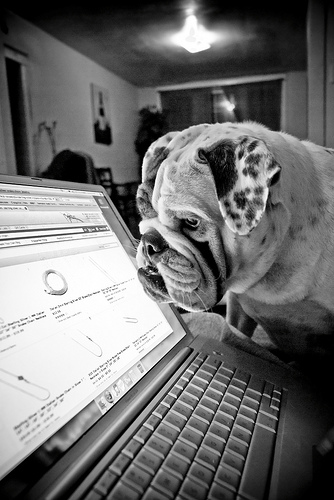 Today's networked economy has many upsides. The ability to buy something at anytime via the web…the convenience of having the ability to ship purchases anywhere in the world quickly and reliably, the ability to read customer reviews and testimonials, rich media offerings courtesy of platforms like Youtube, which brings end user experience to a whole new level…the list goes on.
However, one of the pitfalls to the same networked economy is the vast number of options for nearly any item you're looking for. A quick Amazon search on the term 'red shoes', returns over 84,000 results…which is great if you have a shoe fetish, but not so great if you are trying to cut down to a specific. Phenomenal search and sort drill down tools are provided though, making short work of parsing this list down to what most relevant…sneakers or sandals, leather or canvas, size 7 or 8, price range…no problem. This is all well and good in the consumer market, but in the business to business market, how do you determine what the best solution for your organization is?
How is this done in the lense of AP System overhaul?
Well, we're glad you asked…
As Steven Covey stated so well, let's 'begin with the end in mind'. Most AP endgames are fairly straight-forward: automate what's manual, get rid of paper, eliminate cut down duplicate payments, reduce my invoice processing times, give me an electronic filing system for my invoices so I can retrieve them without having to go down into the bowels of my file room! (If that's in the basement, our hearts go out to you…there is hope!)
Here are the keys to identifying the right system for your environment:
1. Determine whether you want to install and manage another application or whether you want a web-based solution that is plug and play with your ERP system.

This is an important juncture for many businesses especially as cloud-technologies reach the tipping point from the luminaries (innovators) and early adopters that understood that the cloud would bring a host of benefits to the early and late majority to follow…and yes they are following and following quickly. The cloud just makes sense…it's more getting acquainted with the new paradigm and getting comfortable with security measures around cloud technologies.
If you're cool with managing applications, updating software, even deploying more hardware, the cloud may not be for you. However, we see more data suggests that companies and leaders of companies are being required to do more with less than in years before in the wake of the economic upheaval of recent years. As a result of this, it's our opinion that cloud based Accounts Payable automation solutions may provide better outcomes with fewer impediments to successful deployments than on premises installations.
2. Identify your budget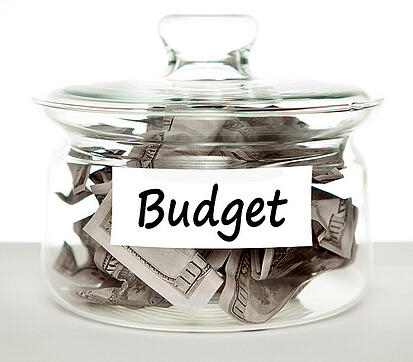 When getting into the AP automation game, you're forging ahead into niche territory from a tool set perspective. Most companies have intimate levels of familiarity with their core systems, including ERP, HR, CRM, etc. However, to successfully execute an automation solution to expedite invoice processing, you will find that there are several essential items that are must-haves in terms of achieving any moderately high levels of automation.
They include:
- Electronic Document Management System
- Electronic Workflow Technology
- Business Rules (Business Intelligence) Engine
- Advanced Capture Technology
- Professional Services – Systems Integration – Custom Reporting
You'll note that most of these multi-syllable fancy shmancy terms are not going to come up in Amazon's Goldbox as a daily deal as they are all fairly niche and definitely costly.
An additional billing consideration is whether or not the juice is worth the squeeze. Translation: will you be able to recoup your investment in these technologies, and more importantly…when? If the answer is longer than immediately, we believe that you're already off track. Why would you want to wait 6-12 months for the system to pay for itself if it were possible to obtain immediate ROI without a significant capital expenditure?
It's interesting to note that Paystream Advisors cites this as the #1 reason why SME (mid-market) enterprise don't pursue automation…it's simply too costly. #3 on their list is that they don't believe there will be an ROI…shocker! With pricetags tipping into the multi-six figures, it doesn't take a rocket scientist to figure out that this is not best approach for that particular market segment.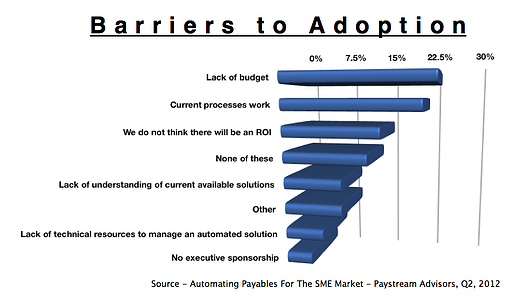 3. What's the best approach? AP Automation, E-invoicing? EDI? Paper?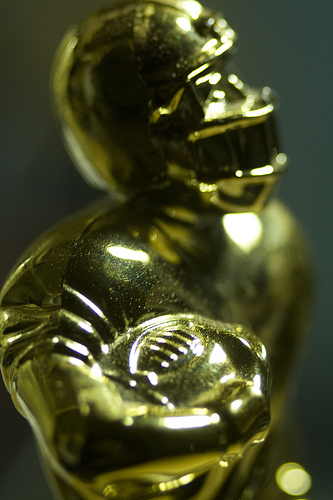 Again, this is highly subjective and depends on your business. What kind of resources do you have to throw behind this from a monetary and personnel perspective. If the answer is limited, then we believe AP automation is the cheap and cheerful way to go. In addition, it's one of the areas that easiest to gain supplier adoption in. If you have deeper pockets and time on your hands, you may want to consider E-Invoicing or direct EDI with your suppliers. Those can be equally or more costly, but will generally take longer to deploy as you not only have to sell your internal associates on the change, but you have to inform, educate, and sell your suppliers on the change as well.
We provide an exhaustive comparison of these methodologies here if you're interested in learning more about which approach is right for you here?
The endgame can deliver potent results to you financially, operationally, and strategically when it comes to Accounts Payable processing improvements. The key is to understand what your current state benchmarks and then come up with a clear and compelling vision to help guide you to your end state.
We'd definitely recommend taking a deeper dive in the eBook below if you're looking for an objective comparison of the best ways to go about improving your AP process.
or you can dowload this eBook on Uncovering the 7 Costs to Process an Invoice and benchmark your organizational efficiency!