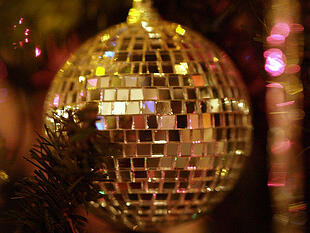 So it's that time of year again...the busy hustle and bustle of the Christmas season.
Oh the joy that awaits shoppers….long lines, ever joyful retail employees that leave indelible impressions in your memory (or not J), the never ending piece de resistance of Mariah Carey (of course I mean 'Fantasy'…what were you thinking of?) playing non-stop on pop radio, parties, good food and bad choices...fear, jealousy, and loathing from Secret Santa gifts gone awry, and the annual Christmas party. All of these make for elements of the holidays that we can't live without as part of our cultural lexicon (though I do think life is possible, and probably preferable, without Ms. Carey's works – but that's just me).
For those of us in the Finance world, this time of year represents some of the most challenging days of the year with many fiscal year ends approaching and a plethora of reporting activities necessary to close the books. In Accounts Payable, every month end, comes with the added responsibility of accruals and forecasts based on predicting departmental and organizational level spend to financial management. In addition to juggling the day to day activities of managing the Accounts Payable reconciliation process, we thought it fitting to take a twist on a true seasonal classic, The 12 Days of Christmas – for Accounts Payable professionals.
We hope this serves as a source of whimsy to you, and potentially inspiration, though if it is more the latter, you may want to seriously consider a Tony Robbins course.
On the first Day of Christmas – A Scanner Was Bought For Me
Virtually no Accounts Payable environment we have ever interacted with has bemoaned the fact that they have too little paper. Au contraire…every department, and every Finance executive and manager we have worked and consulted with has stated the obvious for AP…that paper is abundant, with some even using the verbiage, that they are 'drowning in paper'. Drowning in paper is no farce…though in the context of drowning and phenomena aquatic, it's more akin to a consistent rolling of the waves, not a flash flood.
1. The best way to harness the predictable flow of the waves is 'to rip it, roll it, and punch it' to quote Little Squirt from Finding Nemo, for those who enjoy surfing. To our thinking surfing beats drowning most days of the week. For AP leaders, that should translate to "unfold it, scan it, and convert it to data'. An important caveat here too, is the stage in the process in which this step should take place. Some organizations elect to adopt scanning as a process improvement step, and execute the new scanning initiative diligently…at the end of the process, which is a big NO-NO.
2. If you're going to make the effort to improve the process, you'll need to begin by capturing the invoice images and data from the process outset, so the information can be utilized to actually trigger events within the process to come as opposed just being an ancillary tag along, extra process gyration. If scanning occurs at the end of the process, little benefit is produced except to expedite document retrieval and not clutter your desk up so much.
3. Depending on your invoice volume you may need to obtain robust, dedicated scanners for increased invoice conversion capability. Also, if you have a distributed geographic footprint where invoices are dispersed in a broad setting, leveraging other technology you might have in place, such as multi-function devices is a good way to begin shredding the paper waves. Alternatively, for high invoice volume organizations, you may want to get out of the scanning function entirely, and outsource the conversion of paper to a service bureau or BPO provider that is set up to monitor a dedicated PO box and convert invoices dynamically with solid SLA's. The take-away here is that you need to do what makes the most business sense for your enterprise, operationally and financially.
So begins the 12 Days of Christmas for Accounts Payable...stay tuned for Day 2, coming soon.