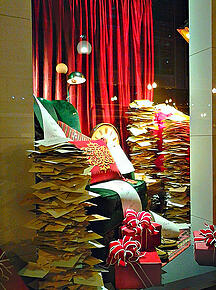 On the Third Day of Christmas my Finance Executive gave to me, 'invoices received and processed centrally'.
While this may be an accounts payable best practices component that many organizations might overlook and say, 'been there, done that', it is important to understand that this is a fundamental step that is necessary to achieve high levels of productivity within your AP Staff.
Problems with Accounts Payable invoice processing in a setting where the invoices are not received centrally:
1. Limited visibility to the invoices that are in process.
Another way of saying this is that if invoices are received in a decentralized fashion, and you're not imaging them and routing these electronically, you really have no idea where they are in the organization. For instance...it could be on Bob's (Bob in IT, not Bob in Facilities) desk...or accidentally in his garbage...or on the mailcart...or with his admin...the point is you don't really know...Bob's a busy guy and he doesn't like lots of questions. This is why so many organizations that have decentralized invoice processing are forced to make lots of copies, as invoices will inevitably get misfiled, mishandled, lost, and worse, you'll get penalties for missing payment terms, which is like adding insult to injury. (Sidebar...losing money to late payment penalties stinks, and is certain to upset your Finance executives...here's how to get their buy in to eliminate those forever.)
2. Slow processing is an issue for Accounting departments that are setup in a decentralized environment.
The paper issues mentioned above contribute to that. In many organizations the invoice routing is still done through interoffice mail and many companies that we encounter route their invoices through costly express courier and delivery sources. While this is a step in the right direction from a process latency perspective, it's definitely a costly step with most express parcel packages costing around $15-20 per shipment. Multiply that by the number of locations you are processing for and do that once a week, and the dollars add up quickly. Robust Accounts Payable software will help you transform this tedious process by enabling you to route invoices electronically in an automated fashion through electronic workflows.
Other issues within the Accounts Payable process where invoice GL Coding & Approval is done remotely:
Basically the issues in the Accounts Payable process with this consideration are the same…lack of visibility and long process times. In some cases invoices are received at a regional level, sent to a centralized Accounting location, and then routed back to the region for coding and approval, with invoices finally being sent back to AP for entry in the ERP. Though it definitely is crazy and inefficient, we've seen it in many environments, even large enterprises.
So based on the first couple days discussions, all of these challenges are addressed through invoice conversion at the outset of the process. With invoices converted to data from the accounts payable process get-go, you can then use the data to drive the process electronically, irrespective of physical locations. This way, invoices can get where they need to get faster and for less cost than a manual process. Also, with this approach, you can have visibility to the whole process, and know where your invoices are at…by stage, by location, by approver, you name it, so you can keep things running like a well-oiled machine.
If your Accounts Payable software that you're looking at to transform your process isn't automatically capturing the data from the invoices, however, then you're still going to be mired under a slow process despite the ability to route the invoices electronically and see them in the process queues. The primary reason for that is that the technology that converts text to data (OCR) just does it way more efficiently than data entry staff could ever do.
So now that we've covered the key Accounts Payable best practices step of centralizing invoice receipt and processing, we'll be turning our attention to cloud based intelligent OCR. The 'eye in the sky' that auto-magically converts all document text to data and empowers you to get out of the data entry business, so you can affect better business outcomes.
Stay tuned for day 4!
Also, you may want to check out CloudX's cloud-based Accounts Payable software and services here to learn how easy it is to say Goodbye paper…hello profit!