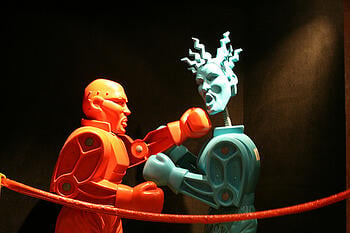 Accounts Payable Software & AP Services - Duke it out in terms of cost and scale!
In our previous blog post, we discussed the merits of both Accounts Payable Software and AP Services approaches to resolving payables challenges. At the conclusion of our post, we offered the assertion that we believe in aspects of each of the respective approaches to improve the Accounts Payable Process. With that said, we did not explore the underlying cost implications to either approach or whether they'd be financially justifiable for most mid-market organizations. For the sake of defining the best case for would-be user scenarios for AP improvement, we'll set a parameter of company size in terms of revenue, say $50MM-$5BB as the optimal size to benefit.
As we discussed before, robust Accounts Payable Software needs to encompass the following core areas to best improve process:
- Document Conversion
- Data Capture
- Electronic Document Management
- Workflow Technology
- Back End ERP Integration
- Business Intelligence
- Vendor Portal
The primary challenge for most organizations around this approach is typically cost. That's why the early adopters of AP automation technology have largely been enterprise level organizations. Industry data suggests that over 60% of companies have taken to some level of invoice imaging. Interestingly only about 35% of that subset of organizations have adopted OCR in their invoice processing. The primary reasons…you guessed it…high cost and nitch software.
OCR technology can get staggeringly expensive and what's more, is it's very nitch. While getting resources lined up for major ERP customization is fairly commonplace (think of how easy it is to get developer talent with SAP, Oracle, JD Edwards, etc. experience), finding the same skill set with the major OCR platforms is not nearly so easy. When you couple that with the fact that the technology can quickly get into the high hundred thousands, you better have an airtight business case to justify the spend, before pulling the trigger on that puppy.
Also, the other components listed, including Business Intelligence, Worfklow, and even Vendor Portal technology may lie outside the realm of achievability for many organizations, also based upon limited IT resources.
This also begs the question, how do you get Executive Sponsorship to pull the trigger on an AP improvement project?
This is why many organizations elected to improve their process by partnering with some level of Business Process Outsourcing.
For the multi-national Fortune 500 set of organizations, outsourcing to India, China, the Philippines, and others have been a practice engaged in for the last fifteen or so years since the rise of networked world. While this has been a financial cost-savings driver for many, some of the intangibles (communications, compliance, & infrastructure issues) have lead to a resurgence of on-shoring, or the redeployment of outsourced functions back to the motherland. Just as Accounts Payable software price-tags often exclude the mid-market organizations we defined above from seriously getting into business improvement through the technology stack listed, many of these organizations lack the project breadth and process flow required to make BPO engagements sustainable for the service provider.
Let's face it…to make BPO successful, it's about achieving economies of scale…but if you can't bring scale to the table in the first place, it's not really a worthwhile pursuit. When you consider that many mid-market organizations have under 10 Accounts Payable staff tied to their process, you can understand why there hasn't been much focus to this segment of the market by the large BPO providers, compared to the Fortune 500's who can have over 100 human resources tied to these functions.
So where does that leave someone evaluating how to improve their Accounts Payable process?
Simply put, the disparity between the two approaches, and the rise of cloud-based infrastructure and delivery methodologies creates a fertile climate to affect change in a cost-effective manner.
The best approach to synthesizing the two camps lies in placing the technology stack in the cloud, so that many organizations can leverage the technology to improve invoice processing and create better business outcomes. Also, by doing this, you defray the high cost of investment that only the 'big-boys' could afford, and you can retain control of the process, and the nuances of the process. (For you parents out there, think of how much anxiety you had when you handed over your car keys to your gleeful 16 year old for the first time on a Friday night…kind of the same feeling evoked by full on Business Process Outsourcing).
If you want to learn more about how you can do exactly this via the 7 best practices to cloud based AP automation, click below!