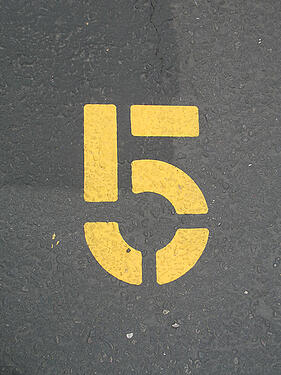 So what's the deal?
With the abundance of good information on all the reasons why organizations could and really should automate invoice processing by way of an AP system, it's kind of amazing that a relative few have done so. Sure, over 60% of companies use some form of imaging in the processing of their invoices, but only a subset of that use OCR technology to automate invoice entry and get out from the mundane aspects of Payables processing.
Leveraging automation technology is essentially an Accounts Payable best practice, so what gives?
Here are five reasons companies don't automate their Accounts Payable process?
Companies don't invest in Accounts Payable software for process automation because:
1. It is very COSTLY!
As we've discussed in a variety of posts all the components that go into a successful AP improvement initiative are very costly. With that said, unless there is a compelling business case and justification of the investment, the project was most-likely dead before it ever started. If the investment exceeds what your allocated budget is in your organization, it is most-likely not going to get off the launchpad. This is a consideration that begets looking into AP services as opposed to just software as a solution, typically due to less restrictive minimal capital investment requirements.
2. They BELIEVE THEIR CURRENT PROCESSES ARE EFFECTIVE!
Interestingly this is the second most common reason organizations have not automated their Accounts Payable process, according to Paystream Advisors. This is a bold assumption, and unfortunately for many inefficient organizations, a costly notion that deserves to be challenged. The issue with challenging this becomes one of benchmarking organizational AP benchmarks and metrics against industry standards. (As a side bar, we offer that as a complimentary service to those who want to better their AP process rapidly, here!) Until and unless you study out exactly where you stand with respect to industry benchmarks, you're really not in a position to say whether they are effective or efficient (from a best practices perspective). To a degree this notion mimics the hubristic attitude that Jim Collins cites in How The Might Fall, when analyzing organizations in decline. The ideas that good enough is sufficient to operate by or there's no room for improvement is worse than foolhardy...it's dangerous. This is equally so for Accounts Payable managers as it is for their CEO's.
3. They DON'T BELIEVER THERE WILL BE A WORTHWHILE ROI
While this directly relates to the first reason, it's important on it's own as well. This is a primary consideration for those companies that are bringing in software in-house and 'on-premises' in terms of delivery. Because most of those approaches require significant upfront capital investment, you can believe that when a Controller/CFO type looks at this, they are looking at the financial justification. If something that is costly does not produce a commensurate or greater financial impact on the organization, it is not likely to get any traction. Would you put a 500k band aid on a 50k problem….not likely!
However, the good news is that because of cloud-based delivery and SaaS approaches to Accounts Payable software, many of these deterrents are fast disappearing.
4. LACK OF UNDERSTANDING ABOUT POTENTIAL SOLUTIONS
When you start to look at the breadth of options to improve AP, it can be quite staggering. Accounts Payable Software, automated payment technologies (ACH, P-Card), E-Invoicing, EDI, P2P, and a host of other terms start to pop up and quickly create confusion. This is why it's important to isolate the areas for improvement and to consider phasing in organizational change over a defined period of time. If you try to take on revamping your entire process at one time it's kind of like eating an elephant. You need to look at the various components to the supply chain process and tackle them in sequence. Procurement and PO systems are one thing…AP systems another….automated payment technologies another. Each one of these has merit and is worth examining in detail to create a better end state.
Also, this is the primary reason we explore these issues in detail in our e-Books. We view it as a privilege and responsibility to educate would be customers and partners about the best ways to automate their payables processing, and you can do so here! It always amazes me the number of Finance leaders that we talk to who have only a cerebral understanding of technologies like OCR, and most often, it's highly dated. With that said, once they understand the implications of automated invoice processing in the context of where technology impacts, affordability, and achievability intersect…they're typically pretty stoked!
5. LACK OF TECHNICAL RESOURCES & IT BANDWIDTH
Similar to capital constraints that hold back so many organizations from deciding to automate payables improvements, many organizations are stretched thin in terms of available resources to execute and administer accounts payable software solutions. This is primarily due to the fact that it is again, niche technology, and if there are resources to be invested, they will predominantly be deployed in alignment with projects that relate to the core focus of the business.
In selecting AP services or solutions providers, it's imperative to partner with an organization that requires limited IT involvement, as it greatly assists getting these types of initiatives approved and on their way to being a reality!
You can see the industry data here: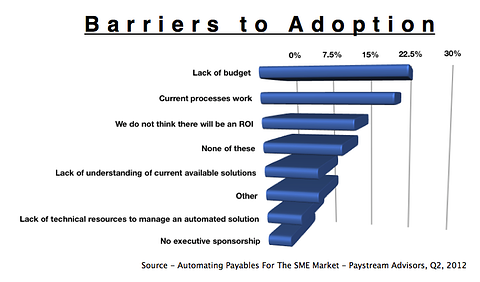 To learn more about whether AP Automation or E-Invoicing is right for your business and other Accounts Payable best practices, click below!