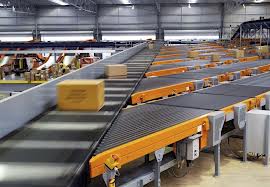 What exactly does a high speed package sorter got to do with Document Type Classification...? Only everything!
Accounts Payable staff the world over are inundated with managing a variety of different documents to facilitate invoice processing, manage vendor files, collaborate with other departments, and provide accurate financial reporting. AP is obviously known for its primary task with respect to managing and processing invoices from receipt through vendor payment. However, other reporting requirements are often thrust upon AP professionals for a variety of reasons. Certainly, all organizations are bound by some level of audit trail requirement, financial forecasting, vendor relations efforts, and other miscellaneous tasks.
The question that we'd like to address today is this: In the context of managing the various document types that enter an AP process, how can AP staff improve Accounts Payable through the use of Document Type Classification (typically included in most Accounts Payable software/OCR technology)?
For one, let's look at the various documents that enter Accounts Payable over the course of time.
In a typical day AP will receive (or generate):
-Invoices (Who knew?)
-Check Request Forms
-Check Copy Forms
-Electronic Funds Transfer Authorizations
-Petty Cash Requests
-Invoice Correction Forms
-1099 MISC Forms
-W-9 Forms
-Stop Payment Forms
-Credit Applications
-Credit Memos
-Travel & Expense Reports
-And on, and on, and on…
That's quite a lengthy list, and by all means, not one hundred percent definitive, as any organization may have document processes that are unique to it which necessitate some other form or doc type.
The point is that all of these forms require some level of document management, human intervention, and physical process. For those who operate in a manual fashion, most of these documents are typically maintained in vendor files alphabetically sorted and then chronologically indexed. It's not uncommon to see tax information in the midst of invoices documents, as well as the other items interspersed throughout a vendor file. The problem this creates really lies around the search and retrieval aspect of managing vendor information, not to mention the actual processing of these documents. Obviously when your records are jumbled together (as in the scenario above), locating and isolating the document in need becomes extremely time-consuming and inefficient.
That's where Document Type classification becomes a big deal in an Automation scenario.
This holds true in any document process, but especially a paper intensive process like Accounts Payable. By leveraging powerful advanced, adaptive OCR technology, the processing engine that converts text on the document to data, can trigger process queues and workflows by identifying both keyword information as well as information based on document attributes.
For instance, capturing keywords like Invoice/Credit Memo/PO #/Application/Form-1099, etc. can all be auto-captured indexed and shuffled to the correct workflow for intervention or straight-through processing. Once processed or routed, the converted and indexed data can be neatly organized into a database for easier retrieval. By adopting this type of an approach you can eliminate the need to file paper documents as outlined above and eliminate the paper shuffle, saving time and reducing frustration. Also, if OCR technology is beyond your budget (or comprehension, as it is definitely a niche technology), using basic tools for workflow and document management coupled with manual indexing of the document (keying data fields into the database/document management system) will cost a bit of time on the front-end of the process, but save you a ton of time on the back end.
Recently, in discussing this with a Controller of a community hospital, we benchmarked their AP efficiency and noted that their AP staff productivity was nearly 80% greater than what we typically see in an entirely manual process. In real terms, they averaged closer to 2,200 invoices processed per month by their AP staff compared to 1,200 per month (we routinely see averages between 1,000 and 1,500 in manual environments). For the sake of the comparison both sets of AP staff are manually entering invoices into their ERP's as well as handling exceptions, and managing other AP related processes…vendor master file management, tax documents, internal service issues, and much more. The difference is that the one with increased productivity adopted front-end scanning and basic workflow to assist in driving Non-PO invoice processing, and greatly reduced their search and retrieval times on AP documents. With advanced Accounts Payable software, Accounts Payable solutions, or AP services(all leveraging intelligent OCR), we routinely see individual productivity soar between 3,500-5,000 invoices per month.
The entire point of using document type classification is that it makes it possible to reclaim swaths of time that in a manual environments are wasted on time-sucking, paper-pushing efforts. Using document type classification in AP should definitely be considered an Accounts Payable best practice, and even beyond that, a best practice for managing any transactional document process. It can greatly impact the time to process and get you out from under the paper burden to improving business outcomes.
To learn more about other Accounts Payable best practices, check out this eBook on AP automation!