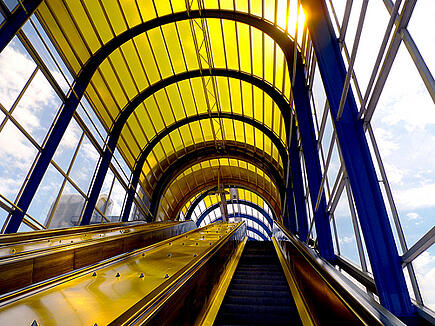 Take your Accounts Payable Process Onward & Upward!
Recently we covered some ground on the top Accounts Payable Software Installers as well as the best options to consider for wholesale BPO of the AP function. Another approach, that we'd like to highlight today, and one that is gaining increasing adoption in the marketplace is a hybrid model, and what we've termed Document Process Outsourcing. In this vein, organizations outsource components of the Accounts Payable process without divesting themselves of responsibility for managing the nuances of the process like dispute handling, vendor relations, and supplier payment. It's a lesser known way than some of the traditional approaches but definitely one that can help you take your AP performance onward and upward.
Essentially, DPO providers, leverage automation technology (typically in the cloud or via a SaaS approach)in conjunction with labor resources to improve the AP process and thereby eliminate the mundane aspects of invoice scanning, capture, entry, & validation. In a DPO approach invoice exceptions that are unveiled as a result of this process are handled by the AP department of the customer utilizing the DPO service. In this way, the AP department that is contracted with the DPO provider obtains the business benefits of automation while retaining invoice processing controls. Namely, DPO solutions can largely be deployed to increase the percent of invoices that are processed straight-through (requiring zero intervention to process, data captured and passed through from the capture through validation to ERP data release and 2/3 way matching) and to automate and expedite the processing of Non-PO invoices for GL Coding, escalation, and Approvals.
There are a few criteria that need to be explored by CFO's & Shared Services Directors in evaluating the best approach to improving their Accounts Payable organization. Certainly the investment costs, technical resources required to support, ease of adoption, tangible gains, and achievability all factor in when making a decision in this area. A fundamental concern that needs to be addressed before outsourcing is decided upon (whether BPO or DPO) is the level of trust that needs to exist between the service provider and the service user.
Here are some of the top DPO players to consider for a newer approach to automating Payables:
Esker – Has an established presence in cloud based document delivery, with tight integration to SAP users. This is most likely due to their European HQThey also offer services focused to A/R, general document management, and Sales Order Processing.
API Outsourcing – API is also well regarded for it's outsourcing services and also offers services around A/R, Document Management, and general Accounting. API also bases its labor services out of the US, as
Corcentric – Offers cloud based Accounts Payable outsourcing, along with A/R, Supply Chain Automation solutions, & Buying Group platforms.
Anybill – Offers Accounts Payable automation services in addition to Tax Payment processing. Additionally, they have a large concentration of clients in the non-profit sector.
CloudX – CloudX offers Accounts Payable automation through a DPO approach. In addition, CloudX automates transactional document processes like Sales Order Entry, Claims Processing, & EOB processing. CloudX also provides Vendor Portal technology & Audit utilities to assist with the Accounts Payable Audit process.
The landscape for Accounts Payable automation in the cloud is rapidly evolving due to a confluence of factors that make these improvement initiatives appealing. Suppliers in this market are being forced to offer relevant approaches (and mutually beneficial) approaches to improving this process. One of the variables that will see increasing pressure as more organizations adopt a DPO/cloud-based approach will be the transactional cost associated with invoice processing (CPI). Currently outsourced CPI can range from as low as $.50 a transaction to upwards of $1.50 - $2.00. Much of the pricing has to do with what technology sets are utilized in the process. OCR, ERP integration, and certainly outsourced data validation services (especially where that labor resides) can drastically influence the cost. Finally, invoice volumes by user can influence the pricing with discounted cost associated with higher volumes.
To learn more about Accounts Payable automation and Accounts Payable best practices, check out the eBook below!