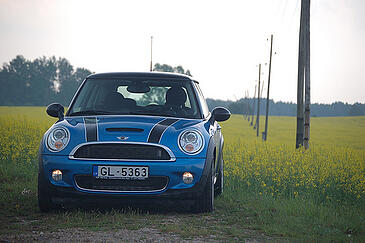 People like options.
Options give people the feeling that they are in control…whether in business or just in life. Consider Mini…by creating a platform that is highly customizable, they've endeared a huge global fan base because Mini owner get to pimp their rides from a seemingly endless menu of accessories and options that make their cars more personal and unique. It's seldom that people complain about having too many options. With that said, options in the AP process are forcing Finance & Shared Services leaders the world over are being forced to address rapid shifts in invoice submission technology to accommodate the preferences of their vendors. This creates challenges from an IT and invoice processing perspective.
What problems you ask?
Creating & maintaining avenues by which vendors can supply their transaction data can become cumbersome and tedious in a hurry. Paper, long being the dominant format that invoices are submitted by suppliers to their customers is being slowly reduced as new options including emailed invoices (PDF & TIFF format), Electronic Data Interchange, EIPP, and P2P (Supplier networks) take flight and gain adoption. If you think about it, paper as a medium for conveying invoice transaction information requires the least amount of work from the supplier to produce, and as such, it's one of the primary reasons that so many invoices are still submitted this way. One of the reasons that vendors are willing to alter their submission methodology is that they are keenly aware of the fact that there are faster and less costly ways of getting invoices over to their customers…namely via an email transmission (eliminating the need to print & post mail, which is generally at least a $.60-75 cost).
What obstacles impede the adoption of more advanced supply chain transactions?
1. Lack of technical resource – Advanced supply chain interactions like EDI require high levels of subject matter expertise. Considering that each supplier will have a unique EDI file mapping requirement, it's a cumbersome and time consuming process to define and validate data sets that will be amenable to both the purchaser and the seller. Further, you have to consider that not every supplier will have the bandwidth or expertise required to adopt an EDI approach.
2. Lack of scale - Another factor to consider is that the smaller you are as an organization the less sway you have over your supplier base. Conversely, if you're a juggernaut in your industry, it's easier to get your supplier base to tango with you, as you can use your scale as a leverage point to incent them to see things from your perspective. (We've even seen instances where organizations have mandated EDI for their suppliers, and charged a processing fee per submitted invoice for those who refused to comply).
3. Lack of patience – Some approaches to AP automation are faster to deliver business impacts than others. If any or all of your improvement initiatives require your vendors to adopt to a new process, prepare for a war of attrition (aka don't hold your breath). However, if you can make changes to your internal process and leverage technology and an improved process (yes, we were thinking a DPO approach…how did you read our minds…?), you can realize improvements and benefits much faster than in instances that require lengthy roll-outs.
So, the primary reasons to consider a Vendor Portal are straightforward. With a vendor portal, you can provide your vendors the ability to self-serve from an invoice submission perspective, as well as through an invoice status check perspective. This gives you and your staff the added benefit of reduced inbound calls, which can be time consuming and distracting to core responsibilities. Additionally, if your AP Software or AP services provider is worth their salt, this will be an included feature of their platform. Ultimately, the conversation around vendor portal technology comes back to how we started…providing options to your external customer. The vendor portal (and your Accounts Payable process as a whole) should be flexible enough to accommodate multiple invoice formats to include E-Invoices and digital invoices (PDF/Tiff). This underscores the reason why supplier portals are needed to improve the AP process, as they represent a means to create mutually beneficial outcomes with the least impediments to adoption.
If you want to see how Accounts Payable software and vendor portal technology can work together to make your invoice process faster, easier, more accurate and generally awesome….click here!
To learn more about Accounts Payable Automation and Accounts Payable best practices, check out the ebook below!