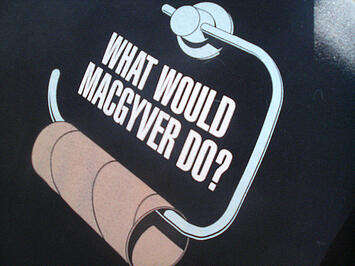 More trouble on the horizon...?
Recent economic data from the Eurozone indicate that GDP for that region of the world is expected to contract 0.3% over the duration of 2013. That is unwelcome news for many countries that have already endured a host of macro challenges in their economies (Greece, Spain debt crises ring a bell?). Continued lackluster results for GDPs like this should serve as a call to action for corporate executives to prioritize internal process improvement initiatives. It's a foregone conclusion that most corporate leaders plan to improve top-line revenue. If they don't…they won't be leading for too long. However, many organizations get hung up on improving process internally as a means to foster growth.
That's because transformation is tough. Not every organization can do it.
We've found that in order for change initiatives in areas ripe with opportunity (low hanging fruit areas like Accounts Payable process transformation) to succeed, there are a couple fundamental components that need to be in place if you have any hope to realize success.
1. Executive Sponsorship is not optional.
In the case of Accounts Payable automation you need this to justify any financial or time investments that are going to be made by the endeavoring organization. Also, you need to have someone to rally the troops and to create an end-state vision, that makes the change process worthwhile. Don't kid yourself…change is tough because it involves adopting new processes, protocols, and procedures. Some people (complacent people mostly) have a hard time keeping up with the pace of change and for this reason you need someone on high that can compel the masses (Approvers & GL Coders especially).
2. A strong Project/Process owner is mandatory.
The optimal person to affect change (AP automation at least) needs to be 1/3 General Patton, 1/3 Dr. Phil, and 1/3 MacGyver. Seriously though…planning and driving skills, counseling skills, and on the fly troubleshooting and problem solving skills are requisite to see a project get wings and fly. All of these attributes are necessary to get your invoice processing out of ruts and inefficiency into an improved state.
3. An Accounts Payable software / AP services provider that adapts to your process, without making you conform to theirs.
There are a lot of differing approaches to improving this space as we've discussed earlier. One central item to consider when planning for your improvement initiative is more of a high-level rather than a detailed question. Is my vendor of choice making me adapt to their process or are they being flexible enough to adapt to ours? I'm not suggesting that sticking to your guns here is the only way to go (especially if you have a screwed up process), but what I am saying is that sometimes it makes sense to leave well enough alone, and your vendor needs to recognize this. Case in point…in the case of AP software some providers look to automate PO based invoices for auto 2-3 way matching…which is great. The $64,000 question here is where is that matching occurring? For some technology providers, there is a nagging insistence that the matching process should occur within their solution. From our perspective, this is putting the cart before the horse, when the ERP is the principal investment and primary financial system for most companies. Rather than re-inventing the wheel, it makes more sense to pass the necessary data from an AP system over to the ERP to let it perform the matching function so it can do precisely what it was designed to do. That said, if your ERP is incapable of performing the matching operation, then it would make sense to consider alternative approaches to it.
To learn more about Accounts Payable best practices or Document Process Outsourcing, check our eBook here!