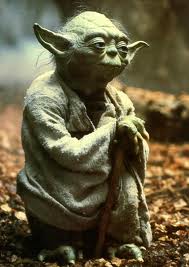 How do we scan (get) our invoices in the AP process?
We're pretty sure this is not a question that Luke Skywalker posed to Yoda in the Dagoba swamps, but based on our experience it is largely subjective based upon your current technology investments and infrastructure and also the strategic direction you'd like to take your back office organization. How so? Well, scanning is definitely an additional step in the process of moving a transactional document like an AP invoice for those who are managing entirely manual processes. (Meaning, if you're not really willing to give an AP automation initiative the old college try, you're probably better off leaving it in the manual state…you don't want a Frankenstein hybrid of old and new parts, but rather, take the time to invest in a fully functional automation solution). From an outsider's perspective it may seem unmeritorious because it adds additional labor effort and processing time, but the mitigating factor is that a quality scanned image can be largely converted to data via an Advanced OCR based capture process, making the scanning a necessary step to true process acceleration. Without the OCR, scanning is largely done just to get rid of paper filing, but little gets done to improve the process. While, that's still a step in the right direction to living the paper-free back office dream, most companies would like to have their cake and eat it too by having the paper-free back office and without necessitating data entry or scanning.
So coming back to the strategic direction, a thought to consider is where is your company at in terms of establishing a Shared Services environment. Most Enterprise level organizations have led the way in creating efficient, centralized processing and customer service centers that are focused to non-core areas like Accounts Payable, Accounts Receivable, Information Technology and many others. In keeping with this type of approach these types of companies largely have investment dollars to fund the requisite hardware and infrastructure that is required to handle high volume transaction processing. But many micro, small, and mid-size companies lack the human resources and financial capital needed to transform these types of processes.
Options for dealing with the paper:
Invest in Scanners – Sure you may not be able to invest in production scanners, and you may not want to unless you can justify the expense against massive amounts of paper volume, but there are many mid range scanners that won't pile on costs and can deliver solid results. Check out some of the work-group range products from companies like Fujitsu.
Leverage your Multi-function devices – This can be really helpful for anyone who has a decentralized organizational set up and more specifically for those with a broad geographic footprint. One of the common themes that we've seen in the course of consulting with many retail businesses is that at the franchise or branch level, there is a predisposition to just Fedexing or using a courier to distribute invoices to AP for processing. Those extra costs and time impacts need not be so deep in your business if you empower your front-line operations to communicate more harmoniously with the back-office teams via image capture at the point of origination.
Document Process Outsourcing is an option – Using a 3rd party can help you improve the end to end process, and rather than embracing either of the two above approaches and having to invest in equipment, some parties are choosing to select a vendor to function as their partner in data conversion. The simplest way to put is that the DPO (or BPO if you're comfortable with turning all of your process keys over) provider has the front end conversion hardware, technology, expertise, and labor resources in place to make the front end issues of how to deal with the paper (at least for the Accounts Payable process) a snap.
Deploy a Vendor Portal – You'll be glad you did if you pull this off correctly. By getting your vendors to submit their invoices electronically, you accomplish a few things: a. you get invoices uploaded to your process dynamically instead of waiting for the mail and having to scan yourself, b. you make the vendor happy by letting them participate in the process and monitor their invoice statuses, and c. you contribute to a healthier planet by nipping the paper in the bud upstream.
These are just a few ways to improve invoice processing in your organization and is by no means exhaustive. Another alternative, as mentioned above is a full Business Process Outsourcing approach, though this is typically done by only the largest organizations, and with the understanding of ceding certain process contrls
To learn more about Accounts Payable software vs e-Invoicing and other Accounts Payable best practices check out our eBook below!