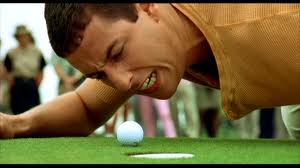 Improvement is an interesting thing.
Take a hobby/sport (though that is a debate unto itself that rages on) like Golf. As Mark Twain said 'Golf is a good walk spoiled.' For many aspiring golfers, there is a latent desire to improve. Lower scores mean getting one up on your friends, relatives, cohorts, and dare to say clients. What, you're saying you've never played with someone that is irksome…I mean, what gives with someone offering tips to you, when they're spraying the ball all over the place and netting a higher score than you? It's almost a proverb that once a weekend warrior hits the links, they suddenly become more sage like than Ben Hogan….but I digress.
You shouldn't approach improving your golf game by saying I'd like to drop my score by 10 strokes per round this year. You need to get granular and understand where you've got excess strokes that can be eliminated…ie. you're three putting half the holes on a course, and there's an opportunity for about 9 strokes, so maybe you don't need major adjustments to improve the result as a whole. Perhaps, it's your short game, or you're putting all of your drives out of bounds. The point is that when you look at the process ... you identify areas for improvement, which have the result of improving the score.
The same is true of the Accounts Payable process!
That's why it's not shocking that in this year's Accounts Payable Network's benchmark survey that one of the core shifts for AP overseers is that there is less a focus on improving the costs of the process and one that is more heightened around improving the process. The a-ha moment here is again that the process improvement implications are a more cost effective process. It stands to reason that if you're currently in a manual, data entry and validation mode, there are going to be errors and inefficiencies. However, if you move some of the big rocks out of the way for your teams to improve (ie. AP automation software.) the process will get more accurate, faster, and productive. Less manual, physical work should equate to a more cost effective process. That is assuming of course you drive adoption in your organization and execute upon redeployment or reprioritization opportunities for your staff when possible.
When we consult with customers, we give full disclosure of the capabilities of a smartly architected and well deployed solution of its potency. However, what they do organizationally and operationally after that fact, is a choice that is left entirely up to them. If, as a recent customer we spoke with, they elect to keep extraneous people around that are underutilized and inefficient, well don't cry when your CPI is not really dropping like you'd hoped.
What to do?
So based upon that and the thrust of this post, take time to do an effective review of your AP process and identify the areas where you think (know) there are redundancies and drags and then set about improvement. Think of it as the office equivalent of time on the range with your favorite golf pro. You may want to consider bringing in outside consultants to facilitate this, though that can often get costly, especially if you're doing elaborate on premise, time in motion studies.
Alternatively, with a pretty straight-forward analysis, you can also get a rapid, benchmark assessment and quickly identify the major brushstrokes of your process to focus in on. After that, you can delve into the niche areas of invoice processing that may be anomalies within the process.
Either way, don't get so hung up about the CPI, and instead focus on improving the core areas of the process. Things like data entry, validation, routing, matching, posting, and the like are the areas that form the aggregate and dictate your efficiency. When you improve these, you'll be in a position to have a leaner, meaner CPI, so begin with the end in mind and get better!
To learn more Accounts Payable best practices and about Accounts Payable automation click here to access some great eBooks!