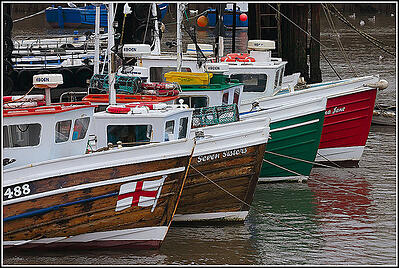 Is your Accounts Payable automation boat on the water?
In economic theory, there exists an aphorism that is commonly used to champion the advantages of tax cuts and favorable policy changes towards high income earners. The saying that, 'a rising tide raises all ships', is commonly attributed to John F. Kennedy from a 1963 speech on a dam project that his critics condemned as pork-barrel spending. With that said, the saying, in the case of Accounts Payable automation is not without merit.
With that said, we wanted to help those who are evaluating the worthiness of an Accounts Payable automation project by providing a look at the post automation benefits from various roles in the organization.
So here we go:
1. Executives & Managers – Accounts Payable automation projects usher in new levels of reporting and key-performance indicator management. In many cases, going from a manual process means literally having no visibility inside of the process as well as relying upon best-guesses for month-end accruals. All of this fundamentally shifts forward for the better when you select an AP automation provider with robust reporting. Also, with improved processing capabilities, getting more productivity out of your staff is a foregone conclusion. Similarly, executives operating in the Treasury function can use the intelligence derived from good AP oversight to better manage cash for improved returns via early payment discount capture. But a word of caution for the wise…if you elect to begin the project with end of AP cycle scanning (after the process is complete and the invoice is paid), you are simply adding to the process and if only using a repository to contain the invoice images, you derive no benefit from being able to use the invoice and pipeline data to better manage the process.
2. Accounts Payable Staff – For AP staff in a manual, or semi-manual environment, (think data entry, manual validations, and paper based archival)…the bulk of those responsibilities can be automated. With this level of Accounts payable automation, the staff can elevate their roles and strategic value by embracing exception management. Because they are now using a lever over the process, they can tackle new projects within AP, as we have repeatedly seen. Additional strategic values can come from promoting early payment discount programs and better collaboration with colleagues in procurement to enhance controls.
3. Approvers & Coders – For the outlying department heads and administrative staff who assist them in approving and coding, Non-PO based invoices, it's often a hide and seek game between AP staff and them. When working with automated electronic workflows, business intelligence and advanced capture, a couple key things can be done to improve this process including auto-approver and auto GL-code assignment by numerous triggers including vendor, location, and the like to get invoices into the right hands for approval faster and easier. This can eliminate the paper-chase that often occurs when AP staff have to call and track down their peers for outstanding invoices. Also, as a backup AP supervisors and managers can delegate invoices out for handling when the primary Approver is out for an extended period of time.
4. Vendors – Vendors get the benefit of visibility when you involve them in the process by supplying a vendor portal. This creates an onramp for invoice submission into the AP process while offering an environment where they can check in on their submitted invoices and payment status. This level of inclusion can obviate the flood of inbound phone calls to AP staff and promote healthier supplier relations. Also, by providing Accounts Payable automation enhancements like a vendor portal, you can offer faster payment execution in exchange for the acceptance of discounts.
5. Auditors – When your invoice information is archived in an electronic document management system, it is a big time saver over standard audit practices. Normal AP audits involve assigning an AP staff gopher fetching invoices and supporting documents for the auditor. This shadowing can take AP staff off task and result in audits taking longer than necessary. Also, the document sifting that is required when shuffling through paper becomes a lot easier to manage when done at the push of a button from the convenience of wherever the auditor sits. Customers that have automated their audit functions have seen as much as a 50% drop in audit times, which can also result in additional billable hours savings.'
These are just some pattern examples of how Accounts Payable automation can make a tangible difference in various roles within the organization.
To learn more about AP Automation vs E-Invoicing and to determine what's right for your organization, simply click below for our free eBook!