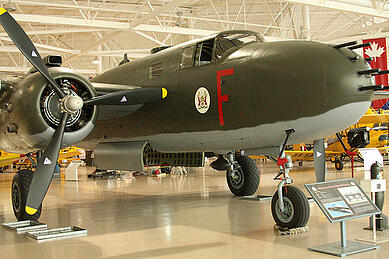 Exactly how is AP Automation likened to the B-24?
During World War II, the United States Armed Forces turned to an interesting manufacturing and supply chain expert in order to beef up their production rates of military aircraft. Henry Ford, the Founder of Ford Motor Company, at 81 years of age pioneered Willow Run, a massive facility boasting a one mile long assembly line production facility for the B-24 Liberator. At its peak, it was producing one B-24 per hour, a stunning triumph for modern day manufacturing and validation of Ford's operational prowess. To this end, many wonder what the effects of Accounts Payable Automation should be upon a process that, in a manual fashion, has remained largely unchanged for decades…and it's a good question.
How many invoices can be processed by a single AP clerk?
This obviously depends on the nature of the invoice processing, and for this answer, we'll turn to some benchmark data courtesy of IOMA. According to them in their 'Effects of Automation on AP Operations' from 2010, they provided two key pieces of insight.
For processors handling 100% of the two following invoice types in a post AP automation environment, the number of invoices processed in a month should be:
Purchase Order (PO) Based – 3,647
Non-Purchase Order Based – 2,263
So with that said, figuring out where you stack up is fairly straight-forward.
Follow the steps below to determine how you compare to those metrics and whether you should look at some ways to automate and improve your Accounts Payable process.
Determine your PO/Non-PO mix – Simply figure out what % of each category of invoice is being processed by your AP organization.
Determine what your AP clerk processing load is by taking the total volume of invoices per month divided by your total number of AP processors.
By applying your PO/Non-PO mix ratio to the Accounts Payable automation benchmark numbers above, you can figure out what the blended amount per month should be if your environment was automated.
Finally, take your current state level of AP production and subtract it from your specific blended rate benchmark, and this will tell you what your shortfall or surplus is compared to the numbers above.
In most cases, for those operating in a non AP automation environment, the typical processor will handle anywhere between 1,000-1,750 invoices per month from our experience. In some organizations the number is better and for others, worse. However, one of the important distinguishing factors is that when we are discussing the role of an AP processor, we're talking about an agent of the AP organization who is responsible for exception handling, vendor relations, internal liaising with other department heads. The reason for making the distinction is that we have seen efficient AP operators in a manual AP environment that process upwards of 3,500 PO based invoices a month. The distinction however is that they are solely utilized in a data entry capacity with zero responsibility for any of the more strategic requirements of a typical AP clerk.
The Main Take-Away
If you know that your processes are inefficient and that too many physical touches of invoices are occurring, and perhaps other process redundancies are happening, chances are your invoice processing could use an upgrade. If you haven't considered Accounts Payable automation before, or if you have and you've come to the conclusion that the juice isn't worth the squeeze or the systems you've looked are entirely cost prohibitive, perhaps it's time to consider a fresh, intelligent, game-changing approach!
To learn more about Accounts Payable automation best practices, check out the eBook below!