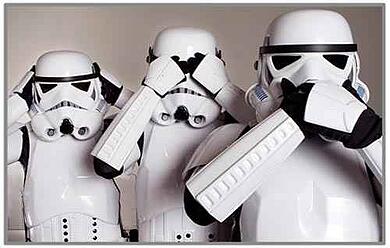 That Dog Ain't Gonna Hunt!
One of the most critically acclaimed World War II film productions has got to be Band of Brothers, produced by HBO in 2001 and based upon the same-titled best selling book by fabled historian Steven Ambrose. In the initial episode, a classic prank is pulled by an entire platoon of soldiers upon their over-bearing and heartless company Captain as a means to show their disapproval of his leadership and decision making process. One of the soldiers, Sargent Donald Malarkey, tricks Captain Sobel into thinking that Malarkey, who is unseen to Sobel in the woods, is actually his commanding officer. Malarkey, using master impersonation skills directs Sobel to cut cow fences in order to advance the progress of his platoon much to the delight of his comrades. In it he uses a fantastic expression to convey the fruitlessness of Sobel's command decisions stating that "that dog just ain't gonna hunt!", and in so-doing compels him to take an action that ultimately mortifies him in the sight of his peers. Now with that said, you really need to see it to enjoy it, but it serves a purpose for our conversation today.
Sometimes it's evident as we approach systems implementations and vendor selection processes that certain dogs ain't gonna hunt. A perfect example of this just happened in the course of our conversations this week with a potential customer. Now up to this point we've discoursed extensively with their Finance leaders and Accounts Payable staff, though when the subject Accounts Payable automation project was broached with their IT leaders, all of a sudden alarm bells start going off, which is interesting but hardly surprising.
Some of the common concerns tend to lie in a few repetitious areas:
We've already invested in systems (let's say document imaging to continue with the exact scenario). To be sure, extending systems that are functional and provide business advantage is highly to be desired. No CIO in their right mind is going to want to bring in a redundant system. But to quote Shakespeare…there's the rub! In the situation that unfolded today, it became very evident that when one department is speaking apples, another department is hearing oranges.
We're overburdened with other projects. Not to say that this one came up today, but it is to say that it underscores the need to stack rank and score projects based upon fiscal impacts, investment requirements, achievability, timelines, and resource constraints. More on evaluating projects here!
This has to integrate to our core systems.

This really shouldn't come as a revelation, but it's a requisite for any sound-minded corporate leader. Of course new systems have to work together and that is precisely why integration shops that tie core systems together do so well. Just look at all the development activity around platforms like Salesforce, SAP, & Oracle.
The question is why is IT often viewed as the buzz-killer of project deployments, when they are the very linchpin in many cases for managing projects and making systems work.
To be sure proposing Accounts Payable software deployment is a heady subject and one that requires extensive planning and expertise to execute upon. That being said to point #1 above, and the whole apples vs. oranges issue, in the case of our the client discussion today, it became evident that IT really had no working understanding of the intricacies of the Accounts Payable process. Now, it's understandable in their particular context, being a large hospital and as we've covered in our Healthcare eBook here, that IT spend and attention typically gets diverted to clinical systems (EHR, digital radiology, etc.) as opposed to back office. But more to the point, there was a complete lack of awareness of invoice processing and the requisite data entry, validation, routing, and exception handling components. Invoices are, as you well know, transactional documents that require interaction, not just some static data carrier that can just get plunked away for safe keeping. Ironically, this type of an approach (archival) without addressing the processing issues, really doesn't improve the AP process, and actually ends up adding costs to the process.
So, as a response to this our recommendation is to always clearly define and articulate the scope of new projects along with providing compelling business cases and benchmarking studies to determine where you are prior to an initiative and thereby create a vision for the improved state. Typically this, along with an educational component, or should we say interpretation process, can help make sure that the items in discussion are meaningful to all parties, especially those who may not have subject matter or process expertise.
To learn more about Accounts Payable best practices and whether cloud based AP software is right for you, check out the eBook below!