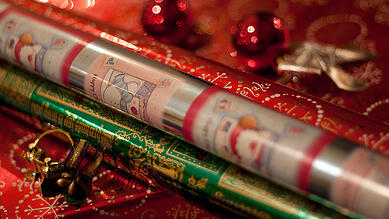 If you left this year's holidays behind and for some reason or other, Santa, your office white elephant, or Great Aunt Mertyl's gifts to you just didn't cut the mustard, then we've got good news for you! CloudX is feeling uber generous and want you to have the awesomest time possible in 2015.
Here's a few ways we're giving back to the people this year:
An oldie but a goodie nonetheless! – There are still a ton of businesses who haven't pulled the trigger yet on pursuing Accounts Payable automation.

Why?!?! Who knows, could be too costly, too difficult, too many conflicting priorities, apathy, heck even ignorance of what's possible, & we get it…that's why we're here to help you learn about ways to improve your AP invoice processing from manual antiquated ways to state of the art, hi tech, hi touch processes that transform your process and usher you into the streamlined digital age!

Learn more about that here or schedule a time with us to get a demo of our approach to AP automation today!

As a gift, we'll provide a complimentary analysis of your current state process against industry benchmarks and YOU can make the decision about what you want to do about it!
The cool kid's gift! – For our underrepresented friends who labor away in the Accounts Receivable department, have we cooked up something for you!

Tired of getting bogged down in lengthy and arduous statement reconciliation and remittance processing…we'll, we're here to help.

With our approach to processing statements and remittances, we can take the data entry and process delays encumbered by many AR professionals out with the Christmas tree if you will (it is January 5th afterall).

If you want to see how this works, it's simple, and we'd be happy to share with you some of the wins we've had in working with other AR clients who have previously been buried under piles of AR statements!
The trendsetter! – Now for the juiciest one that should make all the CFO's & Controllers squeal like a kid who hankered for and finally got the original Furby or Tomagotchi back in the day… While many organizations have implemented various types of procurement card or credit card spending mechanisms, a relatively small few (something like 18% of companies surveyed per MasterCard data) have actually pursued Electronic Accounts Payable. By definition, that would be literally, single use virtual credit card accounts that are generated per invoice to their vendors, who then redeem it electronically.

There's a slew of reason that this is a fantastic way to pay…from a timing and control standpoint, to a cost reduction within the AP side (no check cutting, no postage, no time wasted)

But the biggest reason that we see for any finance leader to seriously consider this is the financial uplift it provides.

Out of the gate, most companies can expect to capture about 1.25% of their spend they run through this means.

And in terms of acceptance, MasterCard suggests that nearly 1/3 of companies already accept this means of payment.

So if you pay out $3MM a month, and 1/3 of your spend was eligible ($1MM) at 1.25%, you'd be getting a $12,500 check back as a monthly cash rebate for nada…just how you physically make payment.

That in ancient Greek is what you call a 'no-brainer'. Extrapolate that out for a year and you're looking at $150,000 upside…which could be used to fund the other initiatives we've already mentioned.

And besides, what other means exist to drive that kind of impact in your AP organization with nothing out of pocket…because we'd like to know!
So, if none of these appeal to you or fit your priority list, there's always a lesser known pathway to a joyous holiday season…and that would be the man in the red suit. No…no…not Santa…much better than Santa…let us introduce you to Sump'n Claus! Cause everybody get Sump'n!