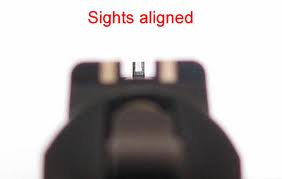 It's tough to hit something you don't have a clear sight picture on!
If you've ever seen Top Shot on A&E, you'll know that something like 12 or 14 contestants are pitted against each other in a reality TV mini-series that aims to determine who is the top marksman across a variety of weapons. It's a fascinating show filled with all types of shooters…law enforcement, military, recreational, hunting experts, competitive, and more. Because the unique challenges they encounter are diverse, no one person has a competitive edge all the time, and so every contestant must try to evidence mastery of fundamental skills that propel them to the top of the heap in each round of the contest. One such skill is the concept of sight, aquire, and fire. Meaning you gaze at the target, acquire the target in your sight picture, and fire when they are aligned. This is common knowledge in shooting sports but in the AccountsPayable process, oftentimes the payment process could be more aptly describe with a ready, fire, aim mantra!
Why Duplicate Payments Happen
Duplicate payments are a common occurrence for any AP staff, but most especially for those who operate in a highly labor intensive, manual, paper burdened environment. It shouldn't come as a surprise, but the reason this can happen is that paper based invoice processing creates process inefficiencies. One of which is where data resides. If you think of paper as a vehicle carrying data, then wherever the paper is in the organization is where the data is. Now think about approval processes, or exception handling processes, and you get the picture of a clouded and obscure process in which data is de-centralized, siloed, and inaccessible for parties involved in the process. Also, when handling paper, manual validation steps are necessary to advance the processing of an invoice from receipt through to posting.
Some common validations that occur manually in a paper AP process:
-Vendor (Name/Entity, Address)
-PO Number
-PO Line Item
-Tax, Freight, Total
-Non-PO Approval & Coding
& many more
The challenge here is that when this is all paper based, or even pdf based relying upon manual entry into an erp, mistakes can occur and items can get mismatched. Further, it's possible for people in a manual environment to not be able to keep pace with the volume of invoices that are in the process, and as such begin to see degradation of sound quality controls including preventing duplicate payments. Additionally, vendor communications can create confusion when invoices are submitted and then re-submitted for any number of reasons. One would think that it would be easy to curb this process by providing visibility to your vendor population with regards to their submitted invoices (which is something we do via our vendor portal technology and discuss here), but again, in a manual environment without invoice imaging and document management you can't as readily head this off at the pass.
How Accounts Payable automation can help reduce duplicate payments:
Promote visibility to invoices in the process. – Every invoice, when converted to data from the process outset should be classified and cross indexed across multiple relevant data fields. With this knowledge you can search against pending payments or invoices under approval before paying a duplicate.
Set up a duplicate exception queue. – Going a step beyond the visibility/search component above, you should leverage an automatic, continuous analysis that encompasses a few key criteria. The system should cross reference the Vendor, Invoice Number, Invoice Date, Amount, and any other relevant data to see if there is a previously paid invoice or similar invoice that has been paid or is pending before payment happens. If there is a match, there's a good chance it's a duplicate.
Empower Vendors – As briefly discussed above, get your vendors on board with the self-service mindset. This has worked for years in the grocery story, at Redboxes around the country, heck with vending machines around the world…people dig owning the process, and by letting your vendors see their invoices in your approval process through a portal, they can see which are being paid, disputed, rejected, etc. and respond accordingly instead of inundating you with duplicates.
To learn more about Accounts Payable best practices and methodologies for deploying Accounts Payable software via the cloud to improve your productivity check out our eBook below!