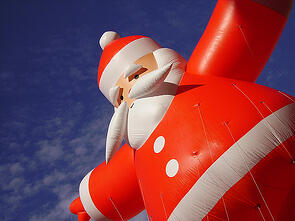 Santa is not well known for his physical prowess, so it's important at this time of year to reflect on his other unique qualities. No, I'm not talking about his reindeer whispering skills…I'm talking about a much more profound characteristic that only the jolly man in the red cap can claim (though the blue guy from Sesame Street could give him a run for the money)…competitive eating. I mean, has anyone actually tabulated the number of cookies that Father Christmas actually ingests…oh the horror. (What would Mayor Bloomberg think of all the trans-fats he packs down?) And thinking about cookies too much, I am drawn to America's most famous cookie…the Oreo. Yes, the Oreo has a legendary quality about it few cookies can compete against, and most importantly the unctuous white colored paste in the middle that necessitates best practices discussions to govern the correct way to eat it.
Alright, I know you're thinking…enough with the cookie references, I'm about to run to the vending machine…what does this have to do with Accounts Payable process improvement?
Only everything…
Successful AP automation initiatives rely on converting invoice data at the outset of the process. Additionally, as we've explored they involve using artificial intelligence to expedite and workflows to improve document routing and latency. We've discussed how these processes flow and can be improved based upon invoice categories, but one of the underpinnings to improving the process is all about how the Accounts Payable software integrates to the back end Accounting (ERP) system itself.
The word 'integrate' is defined as 'to form, coordinate, or blend into a functioning or unified whole' by the Merriam-Webster dictionary. Interestingly, for the purposes of our discussion, the integration of Accounts Payable software platforms and Accounting back-end systems (ERPs) can be likened to the bond that holds the delicious chocolate disks together on our beloved Oreos. Integration links the two systems inextricably and makes the whole a functioning unit.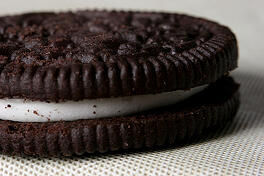 Impactful Accounts Payable software integration enables the following items:
1. Reverse look-ups – The AP Software can check the Vendor Master File for validation purposes to determine if a Vendor does/does not exist and will escalate the invoice in question appropriately.
2. PO/Line Item Mismatches – The AP automation solution can also bounce off a PO table to search for active, open PO's and ensure that line items on the invoice match the line items on the PO itself. This can also be enhanced by including the Receiver information to this check as well, enabling the automation of the 2/3 way match.
3. Invoice Image Call Ups - This enables the AP staff to image enable the ERP system with invoice images. In this way, they can have access to the invoice data and the supporting document. It's best to keep this outside of the ERP for system performance reasons.
& THE BIG KAHUNA
4. Automated Invoice Processing/Entry – All of the data conversion that we've discussed is for naught if you can't effectively get it into the ERP itself. This is best done through an 810 EDI file format. Effectively, through the approach that we are discussing, you can convert all of your paper invoices (and imaged invoices of course) to EDI through intelligent OCR conversion technology. What's the gain to you? Well…like the Four Non-Blondes album…it's bigger, better, faster, and more (powerful that is).
There are other means to pass the invoice data between systems in the event your ERP system is incapable of processing EDI transactions. (However, if your system can't process EDI, it's dated and you might want to consider overhauling that as well).
Here's a short list of alternative approaches to move the data in your Accounts Payable process:
XML / Web Services – A very common means to moving data between systems that most modern Accounting systems will accept.
CSV Files – Also a common means for moving data, often done to export data out of legacy systems.
Information Exchange Utilties – Essentially 'screen scraping' technology that can effectively 'cut and paste' information from screen to screen. This enables one to move invoice data via a macro function by invoice in the instances where an automated integration is infeasible. It still gets you out of the mundane data entry, and into the world of being able to manage and route invoices electronically. The point is that you can still obtain the benefits of automation even if you're behind the eight-ball with respect to dated ERP technology if upgrading your ERP is not in the cards at the time.
With all of these options available to make invoice processing easier through systems integration, there is certain to be a methodology that is workable for you, depending on how your systems are structured. This, too is like the Oreo, which comes in all kinds of shapes, sizes, flavors, and colors…and now I'll let you get back to that vending machine raid.
Stay tuned for the 9th Day of Christmas in Accounts Payable, where we'll discuss AP audits and how to make those easier on your staff and auditors!
CloudX provides AP services, solutions, and process engineering to help clients achieve maximum levels of AP productivity!