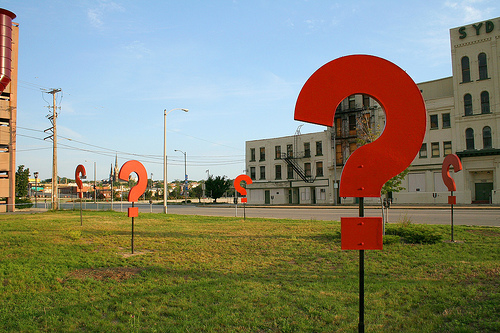 There are no dumb questions!
If you've ever been around a 2 or 3 year old child for an extended period of time, it's a remarkable thing. Their seemingly insatiable curiosity is simply amazing, as they incessantly ask dozens of questions about everything in their surrounding world. Like children, we too can learn quite a bit from asking good questions, and we here at CloudX wanted to share with you some answers from others interested in learning how to improve their Accounts Payable processes. With the breadth of experiences we've had in Accounts Payable automation, we wanted to address a question that came up the other day:
"What factors are there to consider in Managing the AP process with regards to AP automation?"
That's a broad question to be sure, but there are some major themes that we see to ensure successful Accounts Payable automation initiatives. Also, this answer is relative to the user role within AP, ie. it's different for AP Processors, Supervisors, Managers, Controllers, and CFO's depending on where you sit in the stratosphere.
So, we'll take a general look at the following 5 areas:
Invoice Capture – There's a lot of movement in the market to electronically supplied invoices. However, despite advances in technology like EDI and E-Invoicing, for most companies, electronic invoicing simply means supplying a PDF or Tiff image on an e-mail transmission. For AP staff, this adds additional processing steps and complexity as most organizations will first output the invoice and then proceed to physically route, and key the data off the invoice. To improve this area of AP, it's necessary to have a flexible capture component that is capable of processing invoices without reliance upon manual data entry. Ideally, this component can handle scanned invoices, emailed attachments, invoices posted to a website (through a crawling & extraction tool), EDI (by producing an imaged transaction record), and faxed invoice. This way, you can begin to leverage the strengths of automated data capture to drive the process, while addressing pretty much every way an invoice is delivered to the AP process.
Process Centralization – This has been a trend in recent years for most organizations, who have either gone to a central AP organization or to a Shared Services model. With that said, we still talk to companies who have a distributed AP organization, and when we do, the issues around processing standards, efficiency, and benchmarking are glaring. Further issues arise from a process cost perspective as a dispersed labor force can mean volatility in labor costs and higher CPI. As much as possible, it's better all around to centralize the process, especially to gain tighter process controls and have insight to what your AP staff is actually doing on a day to day basis and whether or not they are working to their potential.
Benchmarking Performance – Which leads to the next point. We were recently on a call with a Corporate Controller for the North American market of a global company with revenues in the multi-billion dollar range. Even with the aide of the North American Accounting manager, the two were not tightly clued in to their own KPI's within their AP process. By looking to post Accounts Payable automation benchmark data coupled with our client experiences, we were able to shed light on what optimal invoice processing looks like, but the conversation highlighted the latent need for improved process insight and reporting. Like it's been said, 'if you can't measure it…you can't manage it'. If you are presently not benchmarking your departmental effectiveness, then chances are you're not as productive as you could be. Take the time to figure out where you stack rank to industry data and it will be revelatory as you gauge what Accounts Payable automation could mean to you.
Visibility – This is the big kahuna…and for those functioning in an entirely manual AP process replete with data entry manual validation, manual routing and exception handling really have no empirical knowledge of this. However, if you've transitioned from an organization that has visibility into AP and dynamic payables reporting to a manual AP organization, you'll instantly know what your missing. No other aspect is as decisive at mitigating late payment fees, providing audit trails to invoice approval processes, delegating invoices for approval when there are bottlenecks, improving audit cycles and for boosting capture of early payment discounts. Make sure that when you automate you have graphical reporting and dashboarding built in to your new AP automation system.
Fraud Prevention – Another important area that rarely gets the attention it merits is with respect to preventing Accounts Payable fraud. However, by leveraging the approach we're advocating here, you an utilize capture, workflow, and business intelligence tools to catch potential duplicate payments by checking against vendor data, invoice amounts, and invoices consistently running within a close percentage of various invoice approver's maximum thresholds.
There are many factors to consider when tackling a broad initiative like Accounts Payable automation. To be sure there are components on the Procurement as well as the Payment sides that haven't been addressed in this brief article, but also merit consideration for a total AP overhaul.
To learn more about the costs associated with invoice processing check out our eBook below.