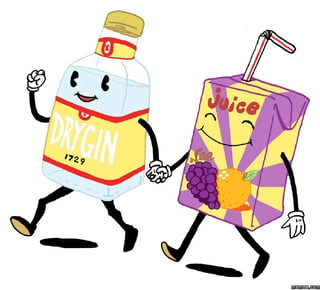 This is not an ode to 90's West coast rep!
However, in terms of the Accounts Payable landscape, it seems to be an item of perpetual interest and something akin to what Snoop Dogg echoed in Gin & Juice, when he said "I got my mind on my money and my money on my mind…". Now as any good accounting or finance leader and steward of your organization's coffers, it's a positive thing to want to know how much your process is costing you. Much has been written by numerous organizations on this and you can find a plethora of information from places like the APQC, Aberdeen Group, Paystream, IOFM, and The Accounts Payable Network.
So, let's use something borrowed from the AQPC via CFO.com: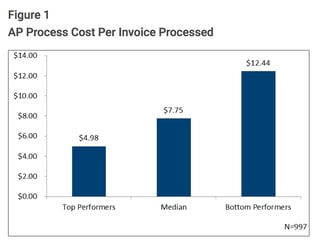 Here's some information on how the data was assimilated and analyzed:
"In this analysis, 997 organizations were isolated. The calculation for this metric isolates the annual AP process cost divided by the total number of invoices processed annually. The process cost includes personnel (compensation and benefits), systems, overhead, outsourcing (to either a company-owned shared services center or to a third-party), and miscellaneous." - The Payoff of Electronic Payables Processing - APQC, June 2015
Now unfortunately we don't have a grip on the distribution of which companies have invested in accounts payable software or automation systems nor their respective size from a revenue or headcount standpoint in this insightful study, but we do know that the cost differential between the leaders and the laggards per invoices is a whopping 249%. That's a staggering conclusion when you realize the physical delta is $7.46 / invoice. That number only becomes more of a problem as your process scales up...just consider multiplying by 1,000 invoices a month…$7,460 or 10,000 invoices a month at $74,600.
That a massive amount of money to process a non-strategic document and something that really enables you to solely keep the lights on so to speak. With that being said, we think it is a safe assumption that the best in class performers who are getting their invoices processed for sub $5/invoice are probably heavily reliant on accounts payable software. The issue stems from the fact that manual intervention crushes process with additional labor and drives up the cost to process an invoice. Thus, if you can divest yourself of the data entry, manual intervention, and manual validation processes you can offload the bulk of the costs that make invoice processing such a quagmire.
Now, for many companies their pursuits of accounts payable automation via accounts payable software are stymied by the sticker shock of what these automation systems cost. However, this has been somewhat alleviated by a cloud-based delivery model as the infrastructure investments are far less than what's required to get into the automation game via a deployed systems model.
Going all the way!
However, the other item we'd be remiss to not bring attention to is that this a limited view of the potential for ap invoice processing. By that we mean far too few organizations understand the ways by which they can transform their AP organization into an integrated and strategic tool for the corporate bottomline via a solid epayments strategy. Besides being able to enhance controls and payment standards and better serve your vendor population through multiple payment modalities, you can literally cash in on your payments and monetize your payment stream especially through virtual payments. Now some accounts payable software platforms integrate payment broker approaches by which you can automate the payment execution to your vendors based on their default, preferred payment method. For some this allows you to pay via virtual credit card and by that token you can harness your payment to drive cash rebates through interchange participation back into your coffers. By taking this thinking to the wall, you can literally take the cost to process an invoice to a negative factor, by which you are literally taking a process that is typically one contributing to the corporate red and converting it into the corporate black.
If you're interested in learning more about that and broadening your scope of payments and getting your money on your mind and your mind on your money, then please check out this eBook below!