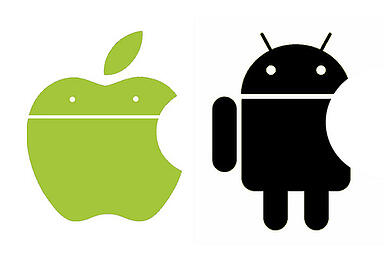 Get on the Mobile bandwagon!
In the last ten to fifteen years, workflow solutions have brought many Finance organizations out of the dark ages in terms of managing paper processes and created unprecedented value, visibility, and ease of access to critical financial data. Whether it's processing invoices, receivables, statements, tax information, or other generic documents, the ability to route information automatically, dynamically, instantly, and with a specific audit trail is huge in terms of improving otherwise muddled processes. However, technological advancements with respect to mobile devices have created macro shifts in how we can share and use information to drive processes. This is self-evident in the B2C space with the huge adoption of social media tools like Facebook, Twitter, LinkedIn, and many others.
What's going on in the B2B space?
Leaders like Salesforce.com have created mobile app extensions of their solutions that help organizations conduct business on the go in newfound and innovative ways. Just consider the panic that would set in if you realized your mobile device was missing and you were relying on critical business data through it to close a deal or make an imminent business decision.
In the world of AP software, mobile devices, be they iPhone, iPad, or Android platform (not hating on Blackberry, but the future there is definitely undecided), are the way surging numbers of corporate users will be conducting business in the future. Why? Simply put, because a little device in your hand extends the reach of your office to anywhere in the world. The implications of this from an invoice processing perspective are huge. For starters, many AP leaders gripe that they have lengthy approval processes as their invoices will get routed through interoffice mail or via email and linger in returing back to AP with the right approver's signature and with the correctly assigned GL code. Successful Accounts Payable automation should include electronic workflow, as discussed above, and mobility solutions should now be included in that approach to workflow. For instance, Approvers should be able to harness their devices through mobile apps to be able to Approve, Reject, Pause, Comment, View and interact with the invoices that they're responsible to authorize.
Additionally, there could be some level of interaction from a search and retrieval perspective within the Accounts Payable process, however, this is probably not going to be as productive as searching from a bigger screen device (laptop/desktop) because it's too clunky. Also, from an administration perspective, mobility solutions can provide real time access to some other key data via dashboards. A couple primary dashboards that resonate with most AP managers are the pipeline of spend, available discounts, invoices approaching due dates, and a dashboard of invoices by approver, so you can see where chokepoints may be emerging.
Other applications for mobility in AP?
Some people are leveraging the native capture technology with in mobile devices to good use. It's very convenient to be able to snap off a photo of a document and convert that on the fly to a PDF/Tiff file. The challenge, at least with 8.5 x 11 formatted invoices, is getting an accurate image of the entire invoice. However, there are some really cool things you can do with automating Travel & Expense related items. By using devices to capture receipts, you can eliminate the need to prepare receipt copies and pdfs that many organizations rely on to process T&E reports (it's essentially like creating a Vendor Portal self service approach, but instead you treat your workforce as the supplier). Additionally, you can extend mobile apps to drive T&E submission by tying the event record immediately to the receipt instead of the typical Excel document and attached receipt images, creating a much better approach for managing this process.
Therefore:
CloudX is actively developing mobile apps for both the iOS and Android platforms, as the future of AP Automation is going to necessitate the ability to be flexible with respect to getting data to a highly mobilized and transient workforce. We recognize the impact that mobility is having on document process outsourcing and that is why we've got tentative release dates for these technologies by the 3rd quarter of 2013.
To learn more about our AP services and other Accounts Payable best practices, check out our eBook below!