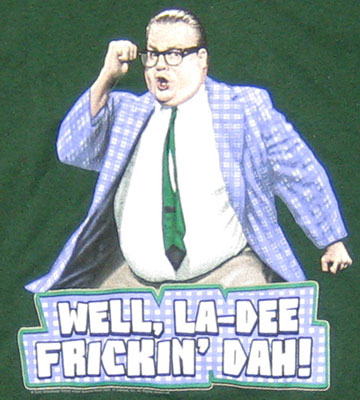 La-dee-freaking-daaaa!
Have you ever been in a situation where an outsider interjects their opinions into your conversation or situation without their thoughts being solicited? Or better yet…perhaps their observation is contrary to a point you were making, and so to speak, steals your thunder. If not, I suggest that on this April Fool's day you take a second to watch this classic motivational speech by Matt Foley, when Brian's dad accidentally subverts Matt's encouragement in Brian's presence…big mistake! It's my observation that AP professionals sometimes respond with the same amplified ambivalence to the issue of processing supplier statements? Why?
A few reasons to consider…
AP Departments are crazy busy!
Supplier Statements are generally issued by Vendors as part of their AR function and they become a tangential part of the Accounts Payable process. They are designed to be an overview of all invoicing activity for a defined period of time, and as such to be used as a tool to within the AP process to reconcile the period's transactions. Often times, there are variances between what's issued on a supplier statement and the individual invoices that are submitted by the vendor during that period. Thus, for many organizations establishing an AP audit process for these statements is important. However, with most AP organizations constricted by existing productivity barriers, validating against supplier statements is a challenging, manual, and slow process that is viewed as a hassle and can often go unreconciled.
Statements come in varied formats!
Statements, like invoices, can be submitted in various formats. Paper based tables, MS Excel spreadsheets, PDFs…you name it! The challenge also arises that there may exist reference or index data on statements that differs from reference data off of the originating Purchase Orders or that may not align if the items or services were obtained without an initiating PO. One of the benefits of most Accounts Payable automation initiatives is the normalization of these disparate data sets to facilitate better processing of invoices. Similarly, you can leverage data normalization from indexing the relevant fields of an invoice or statement to perform automated validation. The simple example is to run the statement, once OCR'd against the invoices that reside in your invoice imaging database. Anything that doesn't match up should be treated like an exception and processed accordingly.
The rise in demand for Vendor Portal technology!
The ironic thing about invoice processing is that Suppliers tend to call (aka harass) their customers to check the status of their invoice payments, despite the fact that repeated inquiries don't do much to advance the processing of the invoice, but more likely, slow the processing of invoices due to distracting the AP staff from their core responsibility. So, instead of continuing the vicious cycle, the advancement of technology has now created some improved platforms for vendor invoice submission, self service, and communication. Through a portal approach vendors can electronically submit invoices dynamically for processing, as well as submitting supplier statement information for processing. Finally, they can also use the search for submitted invoices by status to determine where their invoices reside in their customer's approval process. This, in turn, can shorten the reconciliation process for vendor statements, as vendors can even audit their statements against the invoices in their respective processing queues.
The many advances in capture and AP software, workflow, and document management technology have created newfound abilities to enhance process while making it more secure and easy to advance.
If you are not sure of what the right approach to introducing Accounts Payable software is in your environment, check out our eBook below! In it we explore e-Invoicing and traditional AP Automation, letting you determine what's right for your business!