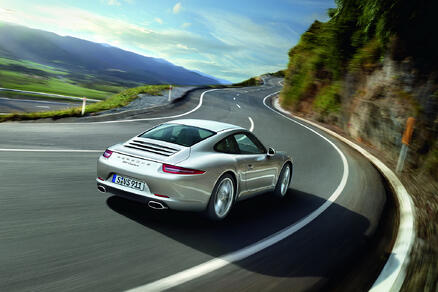 If you're of legal age and have been driving for any length of time, it's always a breath-taking scene when a throaty, European super car, punches the throttle down a high-way on-ramp. Whether the powerplant is a straight set of large bore cylinders or if you hear the high pitched whine of accelerating turbos, either way, the outcome is typically the same…blast off in short order, while leaving many laggards agape at how someone could have the nerve to red-line their tachometer and leave them in the dust. Accounts Payable automation is similar in this aspect, though in a strictly digital way.
Getting Your Accounts Payable process up to speed!
One of the key tenets of any successful Accounts Payable automation initiative is the outright necessity of having a flexible invoice onramp. What do I mean?
I mean that invoices arrive in all shapes and sizes for the AP department to deal with and therefore, you have to be able to have a flexible approach to getting these into your process, especially if you're leveraging an Advanced Capture OCR process. The whole premise of Accounts Payable automation through OCR is the immediate conversion of invoices upon arrival through that costly and niche technology. If invoices aren't getting sucked into a processing engine effectively then it could mean a couple of things…they could be going into limbo (worst case), or they could be getting keyed in by staff (slow, costly, and error prone), either way there is room for improvement.
So how do you craft your Accounts Payable process to perform like that European engineered thoroughbred above?
Deploy these onramps in your Accounts Payable automation effort:
Identify a dedicated remit to for centralized invoice conversion – or partner with a service provider that monitors your inbound mail and converts all inbound invoice (credit memo, credit app, whatever…) documents to digital format as a service.

Create a dedicated inbound Accounts Payable email account expressly for the purpose of giving your vendors a consistent plan of action for electronic invoice submission. If you have invoices going to multiple AP staff, by going to a centralized, AP invoice receiving address, and feeding that to your processing engine, you can speed up the process, while eliminating individual chokepoints.

Convert faxed invoices to digital and route via point #2. Faxes are soon to be an obsolete technology, though it is amazing the level of entrenchment they have in various vertical fields, and most specifically healthcare. To improve your Accounts Payable automation effort, make sure you have a service capable of converting faxes to Tiff/PDF instead of outputting to paper and auto-forward the inbound traffic to your dedicated AP email inbox for immediate processing.

Improve Vendor Relations through a vendor portal. Including your vendors in the AP process is key, and doing so can greatly help decrease inbound call traffic to your AP staff. By giving your vendors access to their submitted, electronic invoice images, and by providing them visibility to where those invoices are at within your approval process is key to enhancing your vendor relationships. Also, more advanced Vendor Portals in strong Accounts Payable automation suites allow advanced matching mechanisms against open Purchase Order data, greatly increasing auto 2-3 way matching accuracy.

Create a record of EDI transactions. Electronic Data Interchange is the gold-standard of P2P integration the world over. There's a reason that best in class companies like Walmart rely upon EDI transactions for over 95% of their invoice transactions. However, getting all vendors to adopt EDI is not a reality due to cost and technical resource issues around setting up live EDI connections. Additionally, many companies struggle with the burden of mining out transaction details in a cogent and presentable format, so a good Accounts Payable automation package will enable you to produce an invoice image from an EDI transaction that can be used as a supporting document for that record. Part of a comprehensive, and flexible invoice on ramp is having the technology in place to produce an EDI to invoice template.
For more information on how to improve your Accounts Payable process, and especially your invoice processing costs, check out the eBook below!