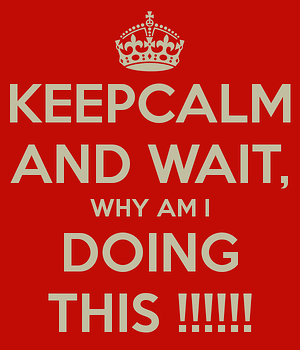 It's the question that drives us crazy...
Have you ever found yourself in the middle of your day to day activities, when something you do just sticks out at you like a sore thumb and you have an ephiphany….'What on God's green earth am I doing this for and more importantly…why am I doing it this way?'. It could be directly related to the AP process, or it could be in any area of your life.
Here's a little ditty you might like...
Recently, we were on a call with an Accounts Payable Manager of a large hospital (think 500 beds large, which is pretty big) here in the US and this particular scenario hit us smack in the face. This particular manager was very interested in improving her AP process for all the right reasons…too much paper, too much time, too much keying, too much validation…not enough visibility, not enough control, not enough accuracy, slow invoice processing, etc, etc. During the course of the conversation, she revealed that one of her responsibilities, in addition to managing a staff of five AP processors, is auditing the payment information on their checks.
That's a perfectly reasonable task…for certain dollar thresholds I thought. Good job, Mr. CFO & Ms. Controller…way to be…that's a tight control on cash I thought.
Then what she said shocked me…"on every check we cut". Keep in mind that this particular institution processes over 4,000 invoices a month (not to include T&E or Payroll items). That's a lot of checks! I mean, that could probably take up a dedicated FTE to fulfill that responsibility, and I'm thinking to myself how the heck do you get anything done from an Administration/Supervisory perspective…?
The other shoe dropped when she said that she does this at night in order to keep up on top of it! It's kind of like the old line…workin' a half day again…yeah, 12 hours! No doubt! The poor woman needs a break…and moreover, her organization, which went through sustained and significant growth, matured in size but not in processes.
So here's what we're talking about today:
And this leads me to the thrust of this convo...it's obvious AP personnel are burdened and forced to do more with less, and in my experience, are pretty much open to any and all ways they can trim the fat out of their process (like a document process outsourcing approach) if it means saving them and their team time. This is why Accounts Payable software and AP services shouldn't be loaded down with crazy initial investments (because that is an outdated business model not friendly to many business users, aka anyone outside the Fortune 1000). So the question becomes how do you make a case for change when your organization may retain policies and procedures that were apropos in days gone by, but that need to be updated as the landscape of the organization changes.
Most companies are fairly adaptive to better processes on the biz dev side of the house. If your revenue generation processes are whacked (be it Sales or Operations), revenue will decline. However, the back office functions, often don't generate the glitz and glam that the front office does, and so oftentimes, they and the folks in these areas languish from a lack of reinvestment.
Here's a few quick questions to challenging outmoded processes & creating a culture of continuous improvement:
Do you have a compelling business case for this improvement? What benchmarks are you measuring it against?
What's it costing you to do x, y, and z for instance? (Great question as far as Cost Per Invoice goes…check this out for an answer) From a dollars, time, or aggravation perspective?
What are your risks?
Where are their opportunities to improve? How would you improve it? How long to improve it?
How much will it cost? What will it take? What will it deliver back?
What happens if we don't improve it? Can you live with the pain if you don't improve it?
Is the way we've always done it the best way to do it or are we complacent? Do we have tools at our disposal to improve this without fracturing egos? Can we perform ego triage in case of emergency ;-)?
Once you've got the beginning of a business case, you can begin the process of getting the sponsorship you'll need to get a project justified, funded, and off the ground.
If you want to get some Jedi insights on Accounts Payable best practices or Accounts Payable automation let us know by clicking below!