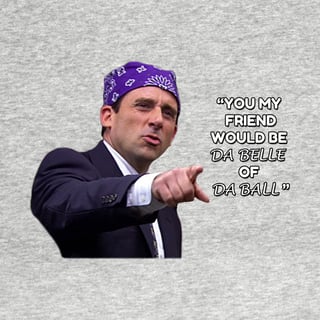 You know why they call me Prison Mike?
SMB's can hardly be categorized "da belle of da ball" in the now famous Michael Scott, aka "Prison Mike" vernacular. While they may have a bridesmaid and not the bride type rap, SMBs (small and medium businesses) make up nearly 97.9% of the United States' 5.83 Million employer firms. That is nothing to bat an eye at and until now has represented one of the last frontiers that is primed for process automation.
There are a variety of ways that automation is happening to the financial back office of the small business, whether you look at banking apps that simplify how checks get processed through mobile capture and manual indexing to things like accounting systems in the cloud that sync with your credit card provider to eliminate subsequent journal entries.
Some of the other, harder to reach areas include things that big corporates have been tackling for a while...invoice processing automation, epayments, and the like. The intersection of these technologies, especially now through cloud based delivery methodologies essentially means a world of possibilities for small business leaders. Not only can their processes be improved and transformed so they are virtually hands free and so that they have complete visibility, but they can literally be engineered to make their businesses make money. This is no longer the realm of the big corporate only because cloud-based delivery has upended the traditional install based deployment model and paved the way for businesses of all shapes and sizes to follow in their footsteps.
With the expansion of repeatable integrations to key core SMB platforms like Quickbooks, Xero, Sage and such, moving data in and out is no longer a boondoggle and when we're talking about automating how transactions get logged into a system that is otherwise reliant on manual entry, data manipulation and release is EVERYTHING.
Three Key Benefits to SMB's Exploring Accounts Payable Software and ePayments
Wave bye bye to data entry! - Through mobile (or desktop or MFP or email) capture, you'll never have to enter another invoice into your accounting software. Invoices and relevant documents get sucked into a capture process and enter your accounting software instance as if you had done the work. Whether you want them be auto approved (assuming no GL coding is required and they match at a line level to open POs) you can shift gears to straight-through processing. Gains in this area from a productivity standpoint are upwards of 80% to a manual process.
Say hello to always knowing where your invoices are and what their status is! - This is a little thing called visibility and is kind of like a blind person receiving their sight. If you don't have sight, it can be difficult to imagine just how powerful seeing really is, but it is that profound. Through a system integrated to your accounting software you can call up each and every invoice and understand every processing touchpoint, decision, payment method...you name it, and never lose another invoice or miss a payment. POWERFUL!
Count your blessings...and your benjamins! - This really pertains to those who would have the foresight to take automation all the way and get into payment optimization. Through a simple epayments strategy tapping both virtual credit cards and ACH transactions you can divest yourself of approximately 50% of your check payments (maybe more). Again, you save time, speed up the process, enhance controls, introduce visibility, and create a cash rebate flow back into your business fully flipping your back office cost center into a profit center.
If this seems too good to be true, well believe it. We've seen numerous clients fully automate their process and enjoy the financial and operational benefits to automation and you can see that here!