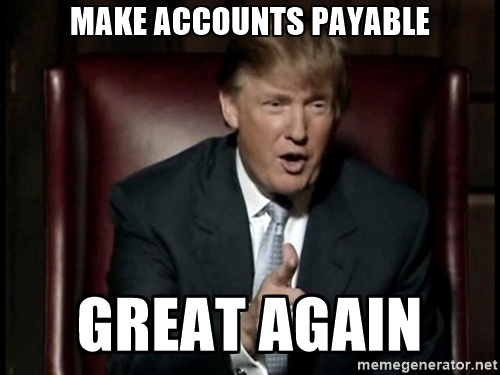 Great Again
In the spirit of the wild ride that has been the election cycle of 2016 and now Inauguration Day 2017, we are on a quest to make Accounts Payable great again. Not that Accounts Payable has ever been not great, but it certainly has been challenged by tedious processes, inefficiencies, risks of all kinds, and costs abundant. We say no more and that a new era in AP is possible through the synthesis of multiple technologies and novel approaches to AP automation that are afforded to businesses of all sizes, from micro to enterprise level.
In our travels, we've encountered many differing opinions as to the best approach to improving this cumbersome transactional area, and while no solution is one size fits all, we do believe that a comprehensive AP invoice processing automation initiative is the healthiest way for most companies to transform this area of their business. Certainly approaches like EDI and e-Invoicing are meritorious and noteworthy, but present significant implementation, support, and vendor onboarding challenges that are non-starters to most companies. Without governmental mandates to adopt said approaches, our assessment of the future of this space is that they will continue to stagnate in terms of adoption, as businesses seek more user friendly, rapidly deployable, and cost effective approaches to automate.
What The Experts Say
With that said, PYMNTS.COM released an article titled Mastercard's Four Pillars of B2B Payments Innovation and cited Sachin Mehra, Group Executive of Global Commercial Products at Mastercard. He had some interesting thoughts on identifying the four pillars that businesses need to solve for via corporate payments and they include: "working capital, data, more control and/or a more efficient process". We couldn't agree more.
With that being said, this has been the focus of CloudXsince our inception in 2011. Our primary aim was to bolster and streamline AP in ways that were previously unattainable due to cost and resource constraints that most companies face (especially the small and mid market space). While this mission continues, there is so much more to mine out of what's understood as the AP invoice processing cycle. While our focus is unchanged in terms of the front end functions that need to happen to expedite how invoices are processed, what happens on the payment side can be a complete boon to your organizationand intertwines with Mr. Mehra's comments. We believe an efficient process dovetails with an effective and secure ePayment approach. Not only that, but it drives profits back to your bottom line, and for this reason needs to be considered by any forward thinking Financial leader.
To the other points, we further agree and think that data is completely underutilized in AP, primarily in manual environments. This has to do with a more reactionary approach due to the crushing requirements of manual data entry and human validation that occur. When this burden is lifted via AP automation, you flip the script on the entire situation and can get yourself into a position where you then tap the data to drive the process. This can include internal workflow automations to expedite approvals, processing, and even payment type. By doing this, you not only create the financial windfall associated with virtual card rebates, but you also empower your staff to focus on other higher order activities. We've seen numerous clients transition AP staff into analytical and special project roles that they've always been wanting to execute but never able to achieve without automation.
So the question for you is, what problems are you solving for in AP this year and how will you make it great again?