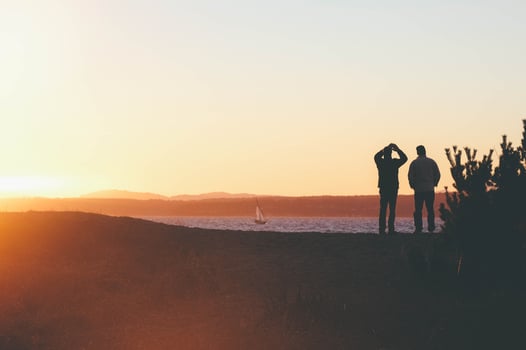 There's better things in the world to do than be bogged down under your paper process
They say nothing in the world is free, and I couldn't agree more (with the exception of salvation, but I'll leave the theological / philosophical discussion to other folks). With respect to bringing in automation technologies and revamping manual processes, there certainly are no ways to go about improving without investing some resources into an initiative. Sadly, there are so many upsides to modernizing static processes like AP invoice processing, AR remittance processing, check payments, and sales order processing, that it is something of a sin to leave them in the antiquated state that many companies do. So beyond the investments required to transform a process, there are definite costs to not doing so and that's what we want to deal with today.
Here we go:
Opportunity Cost
For many folks struggling with burdened, inefficient processes (the Accounts Payable process is a prime example), there are costs to that inefficiency. In some scenarios, particularly in invoice processing, there is an opportunity cost to invoices that are simply paid by their due date or worse, paid late. The way this fleshes is out is via late payment fees in the worst case scenario. That is a penalty for the due date target being missed and results in a negative fiscal impact to the payee. However, though more benign, it is nonetheless equally true that early payment discounts on invoices are missed through inefficiency. This means a potential financial gain to the payee is lost.
In the space of check payments, there are massive opportunity costs for not pursuing more advanced methodologies for payment. In the case of virtual payments, it's difficult to argue with the compelling force that is the rebate stream they generate. Whereas checks cost money to produce, send, and necessitate a longer period to deliver, receive, process, and clear, virtual payments are instant, and provide far greater security measures than that of checks.
Processing Costs
An area most Accounting and Operations leaders will be familiar with are the latent processing costs to advance a transaction. The calculation for processing costs is different in every process, but it is essentially a function of simple math by summing up the labor efforts associated with the process, along with the technology that supports the process, and then factoring in miscellaneous costs involved in transmitting documents. Miscellaneous costs can include things like postage, the cost to print a document, courier costs or others. The reality is that until and unless a process is modernized, you are stuck with higher than necessary costs, especially in the processing department.
Process Risks
Other areas for consideration that should be considered a cost are the risks associated with how a process is performed. In the case of a manual, paper-based process there are many factors to consider. For starters, manual processes are virtually always slower and more error prone than digitized process. By virtue of the fact that data is not passed along electronically, there is a requisite element of data entry that needs to happen to integrate data into disconnected systems. With this effort comes human error. Additionally, because manual processes are less visible, it is harder to get accurate reporting out of these processes. This creates two difficulties; a. process administration from a key performance indicator standpoint, and b. massively diminished ability to curb payment errors or protocols to detect fraud on a dynamic basis. Both of these are areas that can be improved through automation.
Human Costs

Another area that is not something that is readily considered in most cases, is the quality of the work that is done. Not so much from a data throughput standpoint, but rather from the perspective of the labor staff that is responsible for the document processing. In most cases there is nascent understanding that most processes are ripe for improvement. The net result of improvement in these areas is that the mundane and joyless task that is data entry and document processing is replaced by more valuable, analytically driven or socially rich experiences (vendor support and interaction) than in a manual processing environment. The reason being is that in a manual state, there is simply not enough time to get around to higher order items involving the process, when just 'surviving the process' so to speak is so cumbersome as to preclude other pursuits. In turn, this means that the job function associated with these processes can be enriched through a more valuable work experience.

There's a lot more to be said about document processing costs, and we get down and dirty on that subject in this eBook, which you might find cool However, for oddball processes, sometimes it's helpful to lay the cards on the table and have an outright discussion and consult with folks who have actually looked at hundreds and thousands of them to get insight as to the best way to achieve transformation. We welcome you to do that here.

Now get on with transorming your document processes so you can get out there and enjoy your life a little more!