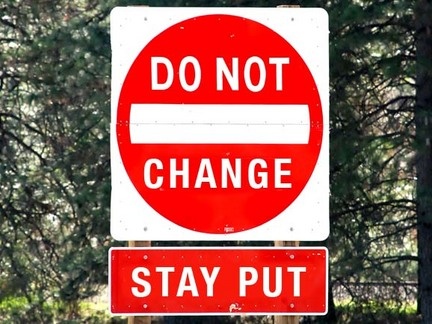 Now is the winter of our discontent...
Getting through the winter of your discontent can be a tough thing especially if you're a leader of a manual accounts payable process. In fact, every day can be a semblance of discontent due to the unique challenges posed by manual invoice processing, juggling disgruntled supplier relationships, managing a labor force that performs arduous clerical tasks, and doing so with antiquated technologies. At least, that's the challenge for the majority of AP process leaders according to industry data on AP automation adoption levels in North America. It's unfortunate too, because the problem isn't insurmountable, in fact it's quite readily resolvable for those who would be willing to lead through adversity. That's the crux of the issue that we're going to expose and address in today's piece.
If strong, visionary leadership isn't your brand then we'd advocate that you not pursue AP automation initiatives in your organization for the following reasons:
Selling to executives is required. - This can be a challenging thing, but the data usually supports pursuing AP betterment. However, before your goals of AP automation can materialize you'll need to get it through the C-suite for approval. In some companies, depending on size, initiatives like these require solely the CFO's blessing to initiate. However, in other organizations you sometimes have to at least run it by technology or operational executive leadership to gauge for buy-in. For companies that have choppy political waters, this can be the kiss of death, but usually cooler heads prevail and provided the juice is worth the squeeze AP process automation can usually be heralded in.
Measuring twice, cutting once. - AP automation is hardly a flip of the switch program. It's not like a 24 hour detox fast if it were compared to popular dieting fads, but it's more an approach for a lifestyle overhaul, at least in terms of work life style. This is a good thing, but it requires fastidious planning and execution. It's also necessary to have a third party, aka solution provider, who has a vested interest in your overall success both short and long term. While software alone won't guarantee success, walking with someone who has been down the path numerous times will help you get your foundation right and will grease the skids to make applying whatever changes you need to make manageable. The other factor to consider here is that you simply can't flip an entire population of inbound invoices on the fly, so a phased-in approach is going to be the most sensible and balanced way to go. In our experience breaking down a vendor list by priority of vendor (dollar or invoice volume, or strategic priority) is the way to go and so planning out from the get-go what the stages of phase-in will be is critical to ensuring success. This has to do often with the line level validation against PO data due to the complexities of matching against secondary or tertiary data as is the case in more complex invoice processing scenarios. As such, it's better to go with the go slow to go fast approach than to blitzkrieg the entire invoice population and create process chaos.
Soothing ruffled feathers. - Once you've got an AP automation underway, applying a schematic for Non-PO based invoice approvals is a requisite for success. However, this involves broad-scale change especially if you have numerous departmental approvers. Again, planning, diligence in execution, and hand-holding is often necessary to deploy a new process and any associated new technologies to support the transformation efforts. In the process of pushing out new technologies, it's common to experience blow-back, especially as there are virtually no scenarios where someone who has been accustomed to a status quo type process will be all peaches and cream on the new approach. As such, if you're a thin-skinned leader, it's going to be dark days unless you lead your people to water by extending support to them and help them walk through the new approval process. Fortunately most Non-PO invoice approval scenarios are bolstered by advances with mobile device accessibility which will save your people time and effort.

The greater truth that is common to all these points is that whenever you disrupt the existing, or what is the norm, you're going to encounter change. It's really just endemic to people to be resistant to change, especially technical change. With that said, as a leader it's your job to cast a positive light on the direction of change where you're headed and prod the herd forward until they've all grown accustomed to a new way of doing things. If you need help in planning out your Accounts Payable process overhaul, we've got some insights that might help you!