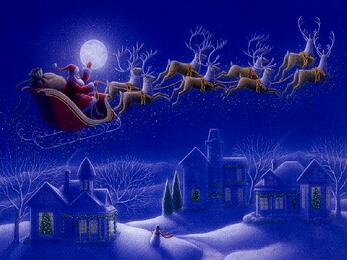 I think it's safe to say that one of the most exciting things that Santa does has to be flying his sleigh. I mean, how cool is it that he's got a non-aerodynamic, multi-ton vehicle that gets whisked into the starry night sky simply by the power of magical reindeer that are affixed to it by nothing more than some leather reigns...? The guy is the ultimate adrenaline junky…which is awesome. When I think about what gives Accounts Payable managers, Controllers, & Chief Financial Officers similar rushes, I come back to one conclusion…Early Payment Discounts. Now many organizations contest that discount capture has fundamentally changed and that suppliers don't offer discounts as frequently as in days gone by.
However, industry data suggests that those who have advanced Accounts Payable software in place to drive payables automation capture over 300% more in early payment discount volumes than their peers who have not deployed automation technology.
Could it be that those organizations who suggest that these discounts are more like unicorns than real are really just masking the facts? Primarily because they can't turn invoices around quickly they never see or capitalize on them. And because they can't capitalize on them, they have no ability to leverage an aggressive and highly productive Accounts Payable process to their advantage in conjunction with their Procurement departments. It may be speculation on our part, though we think there is evidence to suggest this.
When you consider how current economic conditions and unpredictability create cash-flow challenges for businesses, especially small and mid-market, it would be naïve to think that these types of suppliers would actively turn away money in their coffers sooner for a couple percentage points of discount as a fair trade.
So how can Accounts Payable software improve discount capture within an AP organization?
It causes faster invoice processing with greater levels of entry accuracy through OCR recognition technology.
Automated workflows expedite Approval & GL coding processes
Dashboards isolate exceptions, process chokepoints, and highlight opportunities to capture discounts.
It's worth noting that according to Aberdeen Group, the difference between an effective accounts payable process and an ineffective process is substantial. Leaders who have deployed AP automation technology on average process invoices in 4.1 days from receipt to payment. Laggards do this in over 16 days. With 2% Net 10 terms being the most prevalent discount offered, being a laggard will simply keep you from achieving high levels of profitability gain that your peers will enjoy more regularly.
However, for those intrepid souls that have undertaken the initiative to improve their process through AP services or software that offer dynamic reporting or dashboarding…ad victorem ire spolia. To the victor go the spoils.
It's our belief that this is the biggest financial impact area for most organizations, whereas many AP automation vendors are focused to cost reduction around AP staff headcount and FTE productivity.
Here is a quick example for a small/mid enterprise:
Average AP Aging

$2,000,000

20% of Spend w/EPD

$400,000

2% Net 10 - Average

$8,000

Number of Invoices Processed

1,500

Average Invoice in $'s

$1,333.33
This volume of invoices (1,500) is certainly an achievable metric for an individual AP staffer, though it's important to note, that the yield from 2% Net 10 discount capture on 20% of a $2,000,000 a month payables aging pipeline yields $8,000 in savings/profit, which is far more than the fully loaded cost of one staffer.
According to Bureau of Labor stats for all states in the USA, you could afford nearly 2.5 Full-time AP staffers for that kind of yield…and this example is for a relatively small monthly payables pipeline. Further, every organization needs some level of an AP specialist to handle exceptions, manage vendor disputes, and resolve a host of other issues, and so for small organizations there will never be fewer than at least one processor. On the contrary though, not every organization has deployed Accounts Payable software for automation and as such, have not reaped the rewards these systems provide.
Therefore, based on this we feel this is the area to focus on beyond operational improvements. Essentially you elevate staff out of data entry into what we call business outcome optimization.
One thing is certain…if you enact AP services or solutions to bring about this change you'll at worst make the CFO a raving fan (though he still may not Facebook friend you) and at best move yourself from Santa's naughty to nice list.
If you're interested in learning about how to improve your organization's process and capture more early payment discounts click the button below for a demo of APSmart, CloudX's cloud-based AP automation solution for cost-effective payables processing!