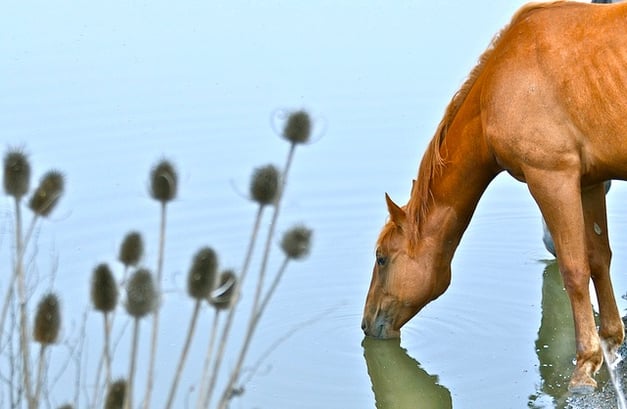 You can lead a horse to water, but you can't make him drink.
However, I had a buddy who once said that "you can salt the horse's oats though". Point taken. It is entirely possible that the whole B2B payments landscapes moves at a glacial pace in terms of adoption of new technologies. Ironically, in a business sector that certainly could really use a healthy dose of innovation, it seems to lag far behind the pace of innovation that is occurring on the B2C side of payments. This isn't a total mystery however as the fact is that corporations are hesitant to change things that are already working in the face of people and process pressures.
In this article over on PYMNTS, The Fed's COO of the St. Louis Federal Reserve Bank went on record to discuss the slowly changing nature of payments as the new Payments Strategy Director for the Fed. Even he admitted that payments have been changing at a seemingly glacial pace, due to the aforesaid pressures. That notwithstanding, people are slowly coming around to new technologies and methods to pay to include wire, ACH, EFT, and virtual credit card payments.
From our perspective, we clearly see and understand the advantages afforded by the newer, digital payment types and the enhanced controls and security derived through these means over traditional payment types.
So, here are 3 Crucial Ways Optimize Vendor Payments through Accounts Payable Software:

1. Priority Payments - Whether you assess priority payments on a monetary (size of payment) or vendor (strategic) basis, either way it's a good idea to optimize your payments through accounts payable software in this way. You can triage your vendor payments pipeline using business intelligence to help expedite or otherwise order your payments against the logic that is useful to your enterprise. This is not always a one size fits all approach, but you can typically sequence and prioritize payments against the criteria that drives your business or AP process.
2. Automation By Payment Methodology - Yet another way you can harness the power of accounts payable software is to streamline and automate your payments based upon the methodology. For instance some AP software functions as something of a prioritized payment broker. Essentially the technology allows you to set payment preference by vendor and in so doing eliminate the hassle of having to make manual selections for each payment. This level of automation can both enhance security and controls around payments in general, but also recoup wasted time and effort.

3. Monetization By Payment Methodology - An integral point to the above is going a step beyond the automation of the payment task. Tapping into the raw power of accounts payable software and taking it a step deeper is where it's at, especially as it relates to making it worth something tangible in the positive sense. Consider that when using certain electronic payment types to include ACH / EFT or virtual payments, you are streamlining your payment types to cut into costly and arduous check printing and will certainly contain your payment production costs. However, the real value to accounts payable software here is to automate and drive payments forward to monetization through virtual payments powered by virtual credit cards. This way you can drive 1-1.5% of your eligible spend back to your bottomline. In most cases you can flip the script of traditional AP and take a cost center and convert it into a profit center. In most cases the cash rebates derived from existing spend, that nearly 30% of vendors across the board will accept via virtual credit card, will more than pay for your accounts payable software and AP automation costs, so it's definitely not an area you can afford to neglect or not establish a plan for!
Good stuff!
Thanks for spending some time with us today! To keep learning what the other crucial keys are to AP value maximization check out our eBook below!