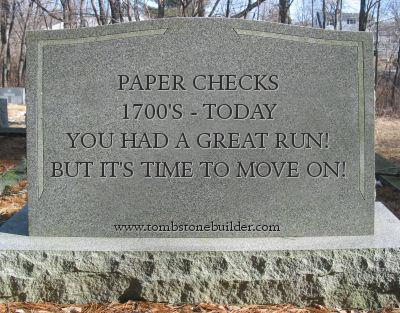 This should really come as no surprise
...but times are changing. Part of that change is going to come by means of how we pay for things and no areas are getting transformed as rapidly as personal payments. Certainly things like Bitcoin, Apple Pay, and the numerous other payment platforms that have sprung to life like Paypal and various others all spell the end or at least the major curtailing of traditional payment methods like checks. The question that we want to broach today is what does that portend for B2B payments?
We think that the days of checks in the commercial space are also numbered, albeit it will take much longer for that revolution to set than it will in the personal space. The primary reason for that is that innovation occurs at a much slower rate in the business space than in the personal space due to barriers in adoption, technology, and conformity unfortunately. Whereas individuals are always looking to make their time more efficient and easy, the uncomfortable truth is that too many businesses can't be bothered with improving secondary, back office functions that don't result in some type of strategic or monetary value add. Additionally, unless there is some major incentive to change, most companies are content to just carry on with the status quo.
It seems that this is a notion that should be challenged for a couple reasons.
For starters, if your business exists in a high growth industry or is tech centered, then you may already be primed to push the boundaries by having a culture that propels you forward. Conversely, if you're in a legacy business that is stable there may be less pressure to do things to the standards of burgeoning companies and as such you can get caught in a rut of complacency. Ironically, in businesses that are more antiquated and slow growth, you can stand to increase margins by becoming operationally efficient, so really whether it's a need to scale and push the boundaries or a need to streamline, the benefits and byproducts of automation are the same. Now with that said, this piece is purposed to center on the payments and in particular using epayments to kill checks.
This can be facilitated with our without accounts payable software. Numerous electronic payment providers have systems that you can utilize to automate the payment functions. There are numerous electronic means to invoke payment whether Wire, ACH, or even virtual payments are invoked. From our perspective, the latter offers the best alternative to checks because of the reasons we outline over here. However, any of these means offer advantages to the costs and burden of traditional check printing. Alternatively, you could participate in various EDI or e-invoicing networks if you are fairly sophisticated, but know that there can be numerous adoption challenges and significant time and capital outlay to get these systems operational. For this reason, and until there is some kind of a forced government mandate, we believe that these methodologies will always the trail the aforesaid options.
However, our mission is to help businesses come out from under the burden of paper and paper based document processing.
As such, check payments are on the chopping block and we want to create awareness about the benefits to automating through accounts payable software. One of the key elements to our vision for streamlined accounts payable invoice processing is to connect the automation and workflow technology to payment invocation and execution. That is a major advantage to having both your front end invoice processing automated through accounts payable software that is integrated to your actual payment execution. You can certainly manage this through multiple systems, but from our perspective, if you can tie these two together you can kill multiple birds with one stone so to speak.
The other key advantages that ratchet up to kill checks as an option in the B2B space are the enhance security, timeliness of payment controls, and complete visibility to the invoice approval, processing, and payment components of the transactions. Any way you slice it Accounts Payable software offers tremendous value, but we think beyond the operational elements you can literally monetize to make money for your business and to make a substantial difference in how work gets done making it a no-brainer at least for most businesses to evaluate.